Wednesday,
November
16th
2011
- 16:26 UTC
Paraguay criticized for its handling of the FMD outbreak
The Southern Cone Standing Veterinary Committee, CVP, accused Paraguay of not complying with promises related to foot and mouth disease, FMD, control following on the outbreak reported to the north of the country last September 18.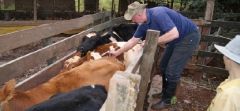 In a letter addressed to Daniel Rojas, Paraguay's chief of Animal quality and health service, Senacasa, Dr. Ruben Robles president of CVP, the organization responsible for the control of FMD in the region (Argentina, Brazil, Paraguay, Bolivia and Uruguay) recalls that Rojas in spite of his office's promise did not honour his word and has yet to receive a technical team of experts from CVP.
In the letter Dr. Robles says that from the moment of the outbreak, September 18, CVP repeatedly offered to send a team of experts to help address the situation, but so far to no avail.
Furthermore CVP complains that more than six weeks since the San Pedro outbreak report "CVP does not know or has not been informed of the origin of the outbreak, with growing concern about the following silence which only generates domestic speculations in your country which then transcend borders".
Paraguay is a full member of several animal health organizations which includes the Pan-American FMD Centre (Panaftosa), the Mercosur Free of FMD Program and CVP. Members of these institutions are committed to report and back each other whenever a problem surfaces mainly referred to technical support and even economic aid be it the case.
In another paragraph Dr Robles mentions that during the CVP meeting in Sao Paulo last October 4, the Paraguayan Senacsa delegation formally agreed to receive technical assistance from a team of CVP experts which would visit the country immediately. "Disappointingly this has not happened".
Interviewed by the Paraguayan media about the letter Rojas said that "we have complied with Panaftosa since Dr. Jose Naranjo visited our country and confirmed we are doing a good job; besides people from CVP were also here".
However when asked if the was referring to a team of CPV experts Rojas admitted it was "an individual visit".
Finally Rojas advanced that on Thursday he would be flying to Montevideo to meet with CVP representatives to discuss how we are managing the situation and revealed that several containers with Paraguayan beef that had been retained in Argentina, have now been allowed to cross the neighbouring country.
When the outbreak Paraguayan authorities identified an only farm with FMD traces and proceeded to terminate 820 livestock. Senacsa later reported that the outbreak had been tracked to a "human error" but that the quality of the FMD vaccine (the first suspect) had tested as "excellent".
Landlocked Paraguay also reported that technical teams from Russia (its main client for beef) and Brazil had visited the region of the outbreak to check on the sanitary and precaution measures imposed in the region.
Allegedly both teams were 'satisfied' and Russia resumed purchases of beef with the first shipment retained by Argentina until the FMD situation was cleared.