Argentina expected to announce more protectionist measures this week
Monday, March 12th 2012 - 20:49 UTC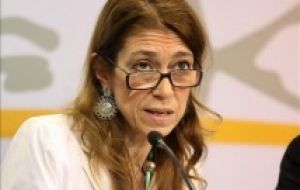 Argentina plans to intensify its policy of protecting the trade surplus and impeding the outflow of hard currency and this week is expected to add another one hundred tariff positions which will be submitted to an increase in import levies.

A special team has already listed the one hundred products that will suffer a major tariff protection, and previous consultation with President Cristina Fernandez the list must be presented to the Mercosur Foreign Trade Committee.

The Argentine team is made up of Minister of Industry and Production Debora Giorgi; Secretary of Foreign Trade Beatriz Paglieri and the Economic Policies Secretary Axel Kicillof.

According to Argentine sources consumer, intermediate and capital goods are included in the list, which was elaborated in coordination with the respective commerce chambers.

Regarding capital goods the list includes those which are manufactured in Argentina or are exposed to 'disloyal' competition or have been re-directed to this part of the world because of the Euro crisis in the EU.

Argentine government sources said that for each good, a study on the level of imports during the last twelve months has been elaborated as well as how the possible increase in tariffs will impact for the overall production chain. The range of industries covers from machinery and equipment, metal, electronics, electro-mechanic, telecommunications, computers, plastic, glass and paper and pulp.

Last December Mercosur members agreed to a system that enables individual members to increase import duties on 100 tariff positions, above the group's common external tariff but below the maximum allowed by WTO, which is 35%.

In exchange for this protection Argentine manufacturers will sign individual contracts with the government, by which they are committed to greater investment, price stabilization, substitution of imports, increase in jobs and ample supply to the domestic market in quality and quantity.

The current Argentine protectionist policy has been severely criticized by Mercosur members, countries in the region (Chile, Peru and Mexico) as well as the European Union and the US.