Thursday,
June
21st
2012
- 05:51 UTC
Argentine government authorizes the export of 6 million tons of 2012/13 wheat
Argentina's government authorized this week the export of 6 million tons of 2012/13 wheat as farmers advance with early plantings, officials said.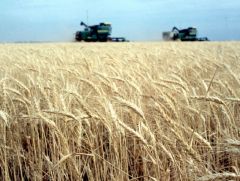 Argentina is the world's sixth-biggest wheat exporter and the key supplier to neighbouring Brazil, but growers have been planting less of the crop in recent years due to complaints about the government's export quota system.
In past years, officials have authorized smaller quantities for export, seeking to guarantee cheap and plentiful supplies in the local market.
Growers say that has depressed the prices they get paid by millers and exporters, and some have started planting alternative crops such as barley and oilseed rape.
"Due to the forecasts that we've got at the moment, President Cristina Fernandez has made the decision to free up 6 million tonnes from the 2012/13 season for export," Vice President Amado Boudou said in a statement.
He estimated the country's own wheat needs at 6.5 million tons, suggesting the government expects a harvest of at least 12.5 million tons.
One million tons of the export approvals will be reserved for farming cooperatives, Boudou added.
Slightly more than a quarter of the 3.8 million hectares estimated for 2012/13 wheat plantings has already been sown, the Buenos Aires Grains Exchange said in its latest weekly crop report.
If the wheat area estimate is accurate, it would mark a 17% decrease from 2011/12 plantings, reflecting farmers' pessimism about potential profits.
Argentina produced 13.2 million tons of wheat in the last harvest with a planting area of 4.6 million hectares, according to government figure.