The only 'coup' was including Venezuela in Mercosur with Paraguay suspended
Tuesday, July 24th 2012 - 06:40 UTC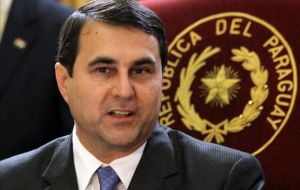 Paraguayan president Federico Franco said on Monday that the only coup, if that is the word, was implemented by Mercosur from the moment they left Paraguay out of the decision to incorporate Venezuela as a full member of the group.

However the president said he was satisfied because Mercosur, through the review tribunal had recognized his administration.

"The incorporation of Venezuela is null and void, illegitimate in its origin and the (Paraguayan) government that takes office after the April 2013 elections will have to review the situation and see what steps to follow", said President Franco.

He added that the Mercosur treaty is very clear "and states that all decisions must be unanimous, and having left Paraguay out (suspended) the other members are violating a substantial aspect".

Argentina, Brazil and Uruguay during the recent Mercosur summit in Mendoza suspended Paraguay and following voted the full annexation of Venezuela to the group, which is to be made official July 31 in Brasilia.

Regarding the Mercosur Standing Review Tribunal ruling, President Franco said that in spite the fact Paraguay's demand against the arbitrary decisions from the block, "the position of Foreign Minister Jose Felix Fernandez is very clear, from the moment the tribunal accepted the demand and recognized his ministerial job as petitioner. In other words they have recognized us".

Nevertheless "it is evident there is a higher presidential level, which means the presidents (of the three countries) are instructing the different Mercosur bodies what to do and decide".

Regarding a possible appeal before the International Court of Justice in The Hague, Franco was not convinced since "most probably elections will take place before there is a ruling on the demand".

Finally on a last minute cancelled meeting with members from the Mercosur parliament, Franco said the request was made last Friday and scheduled for this Monday but "they finally cancelled the appointment".

Meanwhile from Montevideo, Foreign minister Luis Almagro defended the incorporation of Venezuela as Mercosur full member arguing Uruguay wants a wider integration horizon.

"We want the incorporation of Venezuela because we aspire to a wider horizon and balance for the integration policy", said Almagro who recalled that Venezuela was the first to knock the door, and "so if the first to knock the door is rejected, you might create a domino effect which impedes others from entering".

Nevertheless Almagro said he does not share the moment in which the incorporation of Venezuela was implemented with Paraguay suspended temporarily, following the political impeachment that removed a month ago President Fernando Lugo from office.

"I think that maybe I stopped half way in the process but it was President Mujica who went all the way through with the issue thus confirming the incorporation", revealed Almagro.

A month ago following the controversial incorporation, decided only by the three presidents, Cristina Fernandez, Dilma Rousseff and Jose Mujica behind closed doors, Almagro said he had instructed the legal department from the ministry to study the juridical consequences of such a move.