Thursday,
August
23rd
2012
- 00:58 UTC
Chavez pledges 130bn investment to boost oil production to 6 million bpd by 2019
Some 130 billion dollars will be invested in Venezuela's Orinoco Oil Belt between 2013 and 2019 to boost national production from 3 million barrels per day to 6 million bpd, President Hugo Chavez announced on Tuesday evening.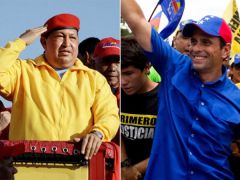 The investment program in the heavy oil region, but the world's largest proven petroleum reservoir, is equivalent to roughly a third of the 383 billion dollars the Venezuelan Treasury says it collected in taxes and royalties over the past 10 years.
Roughly 5 billion is to be invested this year, which will enable "production in the Belt to reach 1.35 million barrels per day by the end of 2012" Chavez said.
Of the estimated 6 million bpd to be produced in Venezuela in 2019, "4 million will come from the Belt, which now produces 1.2 million," Chavez said in a televised address from one of the wells in that region.
Studies by state-owned Petroleos de Venezuela, or PDVSA, show that 300 billion barrels can be extracted from the Orinoco Belt; that means 20 percent of the heavy crude and extra-heavy crude it is estimated to hold at a depth of 400 meters in sandy terrain, which reduce considerably the level of spending (needed to) extract it, Chavez said.
The US Geological Survey puts the oil recovery rate at as high as 40%, "which doubles our estimate," Chavez concluded.
The announcement must be taken in the framework of President Chavez campaign trail who is facing a tough competitor for October 7 elections and is using all the power and money of the state and media to combat Henrique Capriles, 40, who is proving to be a tougher nut to crack than first expected. As October approaches Chavez promises and pledges have been on the increase.
Last month and after six years, Chavez finally managed to have Venezuela integrated as a full member of Mercosur. Although understandable on a long term strategy, the incorporation has caused non positive reactions from Venezuelan industry and agriculture that fear they are not prepared to compete with Brazil or Argentina.
Likewise the methodology used to include Venezuela has caused a major diplomatic controversy because it was decided after the suspension of Paraguay which all along opposed Chavez' Venezuela.