Friday,
August
24th
2012
- 06:18 UTC
Paraguayan Senate defies Mercosur: votes against Venezuela's incorporation
The Paraguayan Senate, at the heart of serious regional diplomatic dispute, voted by a solid majority against the incorporation of Venezuela as full member of Mercosur. Thirty one Senators rejected the Venezuelan Protocol of Adhesion, three supported it and eleven left the floor before the vote was taken.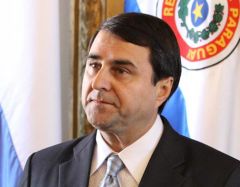 The regional upheaval which caused the suspension of Paraguay from Mercosur and Unasur (until next year's presidential election) was triggered at the end of June by the Senate's political impeachment of Fernando Lugo and his removal from office, to be replaced by Federico Franco.
However the three other full members of Mercosur (Argentina, Brazil and Uruguay) took advantage of the suspension to definitively approve the inclusion of Venezuela as full member, originally requested in 2006, but which remained undecided because the Paraguayan Senate that never felt any love towards President Hugo Chavez, refused to consider it.
The issue on Thursday thus was discussed and voted against the recommendation of President Federico Franco who sent the bill but suggested further analysis and delaying its consideration. Franco's request, who does not want to further deteriorate relations for land-locked Paraguay with its two big neighbours, Brazil and Argentina, went unheard.
The conservative opposition voted against, the only three senators that former president Lugo managed to retain from his winning coalition said aye, but the eleven Liberals that report to President Franco, walked out.
Thus the Paraguayan legislative officially and with a vast support voted against the decision from the other Mercosur full members, who with Paraguay suspended, voted to incorporate Venezuela.
The Venezuela inclusion decision was approved by Mercosur during the Mendoza summit, 29 June, when Paraguay was temporarily suspended from the group.
In spite of Thursday's specific vote, the overwhelming majority of Paraguayan legislators (and constitutional professors from the region) claim the inclusion of Venezuela to Mercosur was done in an irregular manner, since Mercosur decisions need of a consensus.