Saturday,
September
15th
2012
- 06:54 UTC
Growing number of Spanish companies looking to make business in Latin America
An ever growing number of Spanish companies are setting their eyes on Latin America, a region with an expanding economy, abundant natural resources and much to be done as reported by Spain's trade offices and Spanish chambers of commerce.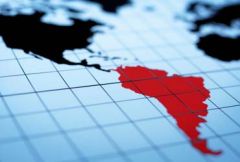 These chambers in countries such as Brazil, Colombia, Guatemala and Paraguay have reported an ever increasing activity with Spanish companies asking about business opportunities and a record number of new members.
The fact Latin America is poised to expand between 3.5% and 3.7% this year has made many small and medium sized Spanish companies follow on the tracks of the big corporations that landed in the region decades ago.
In Sao Paulo the Spanish Chamber of Commerce reports that in the first half of the year the number of Spanish companies looking for information of markets has already surpassed the whole of last year's requests.
"The interest of Spanish companies is for opportunities in Brazil, a huge market. Every week we receive 4 to 5 companies in Sao Paulo", said Maria Luisa Castelo head of the chamber. She added that the number of associates in 2011 totalled 201, however now it has jumped to 249, and in the first seven months, "we received 793 enquiries from companies".
Guatemala is insignificant next to Brazil but nevertheless so far this year eight new companies have become members of the local Spanish Trade chamber: three involved in commerce, three in energy and two in construction. The average so far had been two new companies per year.
Paraguay also reports a significant increase in the number of Spanish companies showing an interest in making business in the country, particularly since the last quarter of 2011.
In Colombia with one of the fastest growing economies in the region, the Economic and Trade Office from the Spanish embassy reports that membership is currently 255 while at the end of 2010 the number of Spanish companies registered was 140.
In Bolivia the chamber has 18 companies registered of which six moved in this year and all of them involved in engineering.
Chile currently has a registry with 530 Spanish companies of which 283 belong to the Spanish Chamber of Commerce, according to 31 August data. Last year 60 registered and so far this year 38. In Ecuador Spanish companies are interested in the procurement of the government including consulting contracts as well as public works projects involving over 300 million dollars.
In Uruguay the Chamber of Commerce, Industry and Navigation has approximately the same number of affiliates as last year ranging between 295 and 300, but the number of inquiries and visits from Spanish companies has ballooned.
In neighbouring Argentina where the Spanish corporations jumped in the nineties, companies continue to arrive in spite of the experiences with Repsol and Aerolineas Argentinas. The chamber now has 846 members of which 41 affiliated this year.
The Dominican Republic reports six new Spanish companies since the beginning of the year: three involved in construction, one in renewable energy and two in pharmaceuticals.
The Venezuela-Spain chamber reports an increase in the number of professionals with previous experience in the country who are wanting to return. The arrival of Spanish companies is unnoticeable but there are expectations of a clear scenario once the presidential election of next October 7 is over. The local chamber believes there will be a significant influx since per capita income in Venezuela is considerable, there is great need of infrastructure works and competition is not as tough as in Brazil, Chile or Colombia.
In Mexico, Latin America's second largest economy, the number of Spanish companies remains stable with a registry of 238 which presented investment projects so far this year. This compares with the 489 of last year and the 409 of 2010. However there has been a significant increase in the number of companies requesting information and indicating an interest in getting involved in the Mexican market.