Wednesday,
September
19th
2012
- 05:20 UTC
Argentina inflation expectations 30% and 20 percentage points above official index
Argentina's 12-month inflation expectations held steady for a seventh consecutive month at 30% in September, according to the median estimate in a survey published by the Torcuato Di Tella University, UTDT. However after three steady months expectations eased with the average response sliding to 34.9% from 39.8% in August.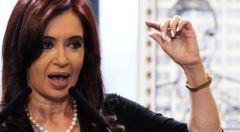 UTDT said on Tuesday in its closely watched monthly report that this was the longest period in the history of the survey in which inflation expectations remained at 30%. Furthermore the gap between median inflation expectations and the level of inflation the government is expected to report stood at 20 percentage points in the survey, the university said.
"The public expects a level of inflation three times what the national statistics agency is expected to announce," the university said.
Argentina's national statistics agency Indec, said annual inflation as measured by its consumer price index was 10% at the end of August. However the credibility of Indec CPI has been called into question ever since long-serving professional staff at the agency was replaced with political appointees in early 2007.
The administration of President Cristina Fernandez regularly denies charges that it manipulates Indec economic data, but private consultants are banned from making public their estimates fearing they could be fined (as has happened) or even imprisoned.
However most private-sector economists said annual inflation is running between 20% and 25% as the central bank increases the money supply to finance government spending.
The statement is supported by the so called "Congressional inflation index" which is an average of the different private consultants released monthly by lawmakers from the opposition belonging to the Freedom of Expression Committee. Their latest release this month was 24.23% for the twelve months to September.
"The gap between public opinion expected inflation and that from the Central bank survey where consultants are asked about official Indec inflation expectations is 20 percentage points. A gap of such magnitude shows the scarce reliability of the official stats on inflation", said Guido Sandleris, head of the UTDT Financial Research Centre which elaborates the expectations index.
The central bank's M2 measure of money supply rose 34.6% on the year in August, well above its full-year target of a 26.4% increase. UTDT report was based on a nationwide survey of 1,209 people by consultancy Poliarquia Consultores during the first week of September.