Fifty Falklands veterans at Stanley's Remembrance Sunday commemoration
Monday, November 12th 2012 - 02:05 UTC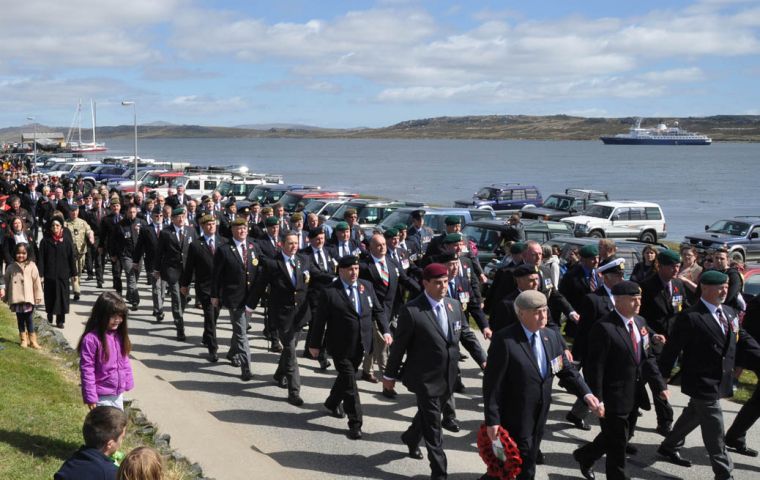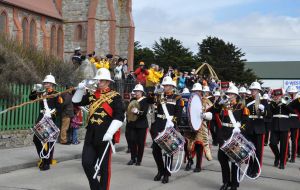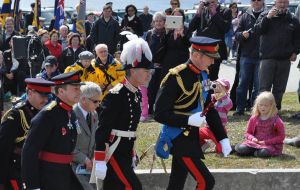 Remembrance Sunday, November 11, was celebrated in the Falkland Islands capital, Stanley with a service at Christ Church Cathedral, followed by a march to the Cross of Sacrifice, the Memorial to all those who laid down their lives for Britain in war, where a service of remembrance and thanksgiving was held in warm and sunny weather.
The Band of the Royal Marines Scotland led the march, followed by the Colours of the Armed Forces, British Legion and veterans associations; then came 50 veterans of the Falklands War, contingents from the Royal Navy, the Army, which was represented by the Parachute Regiment, Royal Air Force, Falkland Islands Defence Force, and many others.
The names of all those islanders who fell in the First and Second World Wars were read out.
Wreaths were laid by the Duke of Kent, representing the Queen, by Falklands Governor Nigel Haywood on behalf of the Falklands, by Brigadier Aldridge, Commander of British Forces Falkland Islands, by Major Peter Biggs Commander of the Falkland Islands Defence Force, by Councillor Richard Sawle for the Legislative Council, by Lt. Col Tony Davies for SAMA-82, the Falklands War veterans association, by Government Whip and Lord Commissioner of the Treasury, Mark Lancaster MP on behalf of the British Government, and by many others.
The customary two minutes of silence was signalled by the firing of a gun, manned by members of the local Falkland Islands Defence Force.
The Reverend Richard Hines led the services. A large number of Islanders gathered at the memorial to join the commemoration there - and were joined by tourists from a visiting ship and foreign visitors, including several Argentine veterans of the Falklands War.
In London Queen Elizabeth II, members of the Royal Family, the Prime Minister and dignitaries, attended the National Service of Remembrance at the Cenotaph on Sunday. They were joined by hundreds of veterans from previous conflicts, as well as Service personnel from the Royal Navy, Army and Royal Air Force on parade.