"Star Princess" calls at Puerto Madryn, the first of four visits this season
Tuesday, January 8th 2013 - 06:47 UTC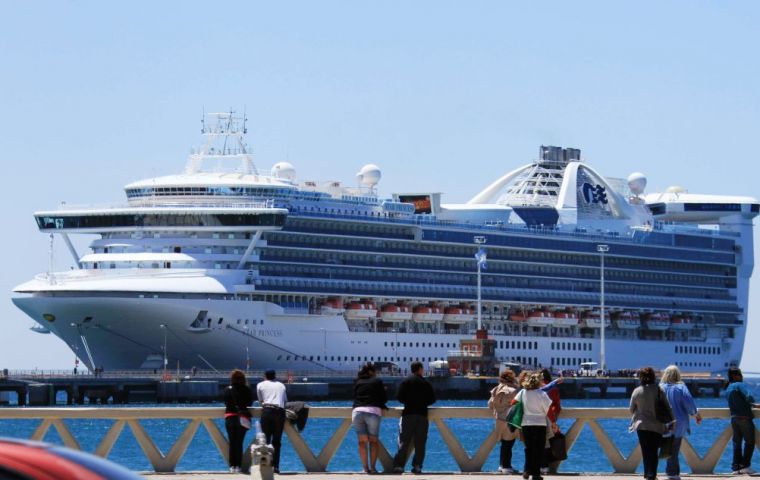 The Bermuda flagged "Star Princess" called on Monday at the Argentine Patagonia port of Puerto Madryn with over 2.400 passengers and 1.200 crew members. This is the second time in the current season the 290 metres long cruise vessel docks in Puerto Madryn and the first this year, reports the local media.
Many of the visitors took tours to the nearby rookery at Punta Tombo, considered among the largest in the world, while others visited other tourist attractions in the Peninsula Valdes area, a Unesco heritage site given its extraordinary abundance of marine mammals.
This time also the Star Princess was able to dock at the Luis Piedrabuena jetty which meant passengers virtually walked straight into the commercial district of the Patagonian city with a strong Welsh legacy.
According to local port authorities the "Star Princess" has four more calls scheduled in the rest of the season.
The next cruise scheduled to call at Puerto Madryn is "Celebrity infinity", on Friday 11 Jan and the largest vessel to sail into Golfo Nuevo.
On January 17, the Bahamas flagged "Amadea" is expected with 900 passengers. And on 19 January, the "Star Princess" will be calling again with "Arcadia" and 2.000 passengers the following day.
"Star Princess" is again scheduled on 19 January; on 20 Jan "Azmara Quest" and on the 25th the "Arcadia" with an estimated 2.000 passengers.
The following day, Jan 26th "Veendam" is arriving with 1.200 passengers and on the 29th of the first month of the year the "Infinity" is expected.
There were no incidents reported from Puerto Madryn contrary to what happened only a few days ago in Buenos Aires where activists targeted cruise ships harassing passengers, including many elderly people.
British passengers were among hundreds who were subjected to verbal abuse and prevented from leaving their vessels, the "Star Princess" and the "Seaborne Sojourn", by protesters angry at visits to the Falkland Islands. (EL DIARIO de Puerto Madryn)