Brazilian corporations fearful of Venezuelan situation despite Brasilia support for Maduro
Thursday, January 10th 2013 - 03:54 UTC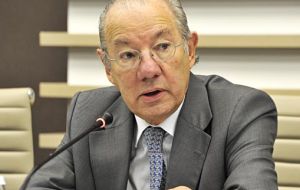 Brazilian corporations with strong interests in Venezuela have expressed concern about the future of the country and its impact on Mercosur if the political transition, because of President Hugo Chavez health condition, does not follow the constitutional process

The position is in contrast with Brazilian government support to the postponement of re-re-elected Chavez swearing in ceremony which according to the Venezuelan constitution should take place on January 10.

In an article published in several Brazilian high circulation newspapers, the president of the Federation of Industries from the State of Sao Paulo, (FIESP) Rubens Barbosa comments on the controversy over the swearing-in postponement supported by vice-president Nicolas Maduro and the president of the National Assembly Diosdado Cabello and earlier on Wednesday confirmed by the Supreme Justice Tribunal.

Barbosa recalls that Venezuela is now "a full member of Mercosur" and if Chavez does not take office on Thursday or the current government extends its mandate "the Mercosur democratic clause could be invoked and would have to be considered".

FIESP president points out that "it's still fresh memory the hard position" adopted by Mercosur with Paraguay, currently suspended from the trade block following the removal of Fernando Lugo from the presidency, "with the argument there had been a political coup and the constitution was not complied"

Other Brazilian media also addressed the issue and the influential O Globo in its main editorial points out that "Venezuela demoralizes Mercosur".

"The lack of transparency with which 'Chavismo' is handling the medical situation of their maximum leader, hospitalized in Cuba following his fourth cancer surgery only makes honour to an authoritarian regime", says O Globo, that also strongly criticizes Marco Aurelio Garcia, the Brazilian Executive foreign affairs advisor and who has been the official voice on the Venezuelan situation.

Garcia argues that there is a 'constitutional vacuum' on the Venezuelan succession process and supports Maduro as a 'care-taker' president in that event.

Likewise Garcia states that "there is no concrete instability in Venezuela" because of the 'succession process". The advisor has been in Venezuela since last week, on instructions from President Dilma Rousseff and is closely following the situation.

Garcia revealed that the health condition of Venezuela's strong man is 'extremely serious' but he is conscious, although very weak.

Brazilian corporations are estimated to have contracts worth almost 20bn dollars in infrastructure, agriculture, manufacturing and hydrocarbons industry support.