Wednesday,
September
18th
2013
- 01:55 UTC
Paraguay expects to return to Mercosur in 2014; Chile offers closer links and access to the Pacific
President Horacio Cartes said that during 2014 links between Paraguay and Mercosur will be fully re-established and by then all the skirmishes motivated by the access of Venezuela as full member of the group, "will be overcome". However Cartes also mentioned that Paraguay, with support from Chile has a strategic access to the Pacific basin.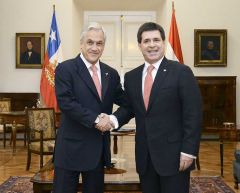 Cartes made the statement at the Asuncion airport after a day and a half visit to Chile, where he talked about the "return of normality" to the strained relations with the block.
"The access of Venezuela to Mercosur, which was implemented while Paraguay was suspended, it will be in the hands of foreign ministers to find the paths to resolve the issue", added the Paraguayan president.
"What we certainly don't want is that because we have a heavy debt with PDVSA (Venezuela's government oil company), it doesn't look as if we reached an agreement based on some kind of exchange or bartering. Nothing is going to be exchanged, much less Paraguay's dignity", emphasized Cartes.
"Paraguay has always stood by the rule of law, and we want Paraguay to be always respected, and that the rule of the law is above all. Currently there is good will from all countries to reach an understanding to overcome the situation".
Paraguay was suspended from Mercosur in June 2012 for the removal of Fernando Lugo who was impeached for dereliction of presidential duties and replaced by Federico Franco. Mercosur understood it was a congressional coup and thus the sanction until fresh elections, but at the same time incorporated Venezuela as full member.
The decision over-ruled the Paraguayan Senate position which was against Venezuela's incorporation since 2006. Last 15 August when the inauguration of Cartes, Mercosur lifted the suspension but Paraguay said it was "in no hurry with Mercosur and was emphasizing on bilateral relations".
Regarding his visit to Chile, Cartes said he was grateful to President Sebastian Piñera support in providing all the necessary means so that landlocked Paraguay could have access to the Pacific.
"We consider Chile's support for Paraguay as a gesture of great value since we are a landlocked country. Likewise the free-zone facilities Paraguay has in the Chilean port of Antofagasta and the road infrastructure leading to the Pacific" underlined Cartes.
"The port of Antofagasta is very useful not only for Paraguay but also for Brazil, which is in need of access to the Pacific. Brazil's agriculture hub can take advantage of Paraguay to reach the Pacific" for the benefit of all sides.
Cartes and Piñera besides a declaration on the bilateral meeting, signed agreements to improve cooperation and to increase four-fold bilateral trade currently at 700 million dollars.
Paraguay besides member of Mercosur is an observer of the Pacific Alliance, (Chile, Peru, Colombia and Mexico) which is a group more open to trade, world markets and foreign investment, contrary to the prevailing policies in Mercosur implemented by Argentina and Brazil.
Cartes also met with Chilean business people where he underlined the significance of the private sector but also criticized his fellow entrepreneurs in Paraguay, most of which, he said, are only interested in making deals and money with government.
"With the business organizations we talk all the time, but I must say that they must take the lead. Now I'm a great critic of the private sector, before I was a great critic of the public sector. But unfortunately now that I can see the weak points of my country I must say that the great accomplice, the great actor in these weaknesses of government is the private sector", admitted Cartes.
"It's very easy to be a critical businessman when you have deals and contracts with the State", and in many cases he added: "the private sector has been an accomplice because they give priority to their interests".
Cartes said one of the main problems has been "to have kept silent for so long" and put the example of some Paraguayan companies that import from Iquique (free port in the north of Chile), and they don't pay taxes, they don't pay VAT and finally with the complicity of people in government they end up selling tax-credits, a clear example of complicity in exploiting the weak points of government".
"It's time to stop with silence and private and public sectors to sit round a table and start talking, all we have to talk and with transparency", concluded the Paraguayan president.