Pope concerned with political situation in Argentina; meets Cristina Fernandez on Saturday
Wednesday, September 17th 2014 - 05:01 UTC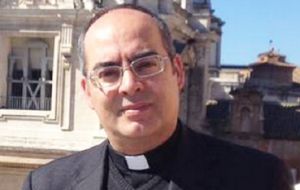 Pope Francis is concerned about the political situation and governance in his native Argentina, the Vatican's chief of ceremonies said Tuesday ahead of a visit by President Cristina Fernandez on Saturday.

"He's Argentine, he's lived what we've all lived in our country's recent history. And it seems to me that it's urgent to keep an eye on this democratic process, because it's good for all of us," he added in an interview with Argentine radio network America.

Karcher made the comments in response to a question about an Argentine labor leader's prediction that the country was on the brink of exploding into social unrest.

Discontent has been mounting in Argentina over an economic recession, annual inflation of more than 30% percent and growing pressure to devalue the peso for the second time this year.

The country is still dealing with the fallout of its 2001 crisis, when tens of thousands of people took to the streets to vent their wrath over an economic meltdown and a freeze on bank deposits. Rioting and a government crackdown left 33 people dead.

Francis, who has not returned to Argentina since being elected pope in March 2013, will welcome Cristina Fernandez at the Vatican for a working lunch Saturday.

It will be a "tete-a-tete, a private meeting," said Karcher, who is also Argentine and worked with the pope when he was archbishop of Buenos Aires.

Karcher said all topics would be up for discussion, including Argentina's 1.3 billion debt dispute with two US hedge funds, which saw the country enter default in July for the second time in 13 years.

The pope personally extended the invitation in a handwritten note to Cristina Fernandez who heads a populist coalition government and has been in office since taking over from her late husband Nestor in 2007.

Saturday's will be the second time the pontiff and Ms. Kirchner meet following the appointment of ex Argentine cardinal Jorge Mario Bergoglio to lead the world's 1.2 billion Catholics last year.

A visit to the country by Francis has been rumored ever since with the monsignor now saying 2016 would be a "proper date" for such event, marking next year Argentina's 200th independence anniversary.

"It is a very nice reason to come back to his fatherland," the monsignor told reporters.