Landslide victory and Senate majority for Evo Morales in Bolivia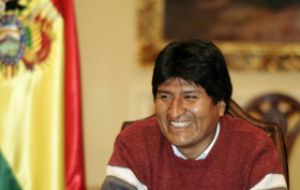 Bolivian president Evo Morales won by a landslide majority in Sunday's general elections and according to exit polls has ensured the Senate two thirds majority needed to continue with his reforms program some of them considered controversial.

The latest estimates have him with 61/62% of the vote while the runner up, conservative Manfred Reyes Villa managed 24/28%. IPSOS and Captura Consult exit polls show the ruling party Movement towards Socialism, MAS, capturing at least 25 of the Senate's 36 benches.

All presidential candidates admitted defeat and promised a constructive and responsible opposition in support of all the Bolivians that voted for them.

Reyes Villa, a former governor of the province of Santa Cruz, stronghold of the opposition, thanked all Bolivians for their support and "a vision of the country that wants to recover the republic and strengthen the rule of the law".

He added: "it has been a hard battle fighting a campaign of lies and political persecution, but we will continue to fight for democracy, for the republic and all those who support these ideas".

With two thirds in the Senate Morales can push through Congress legislation such as constitutional reform, naming judges and the head of the Central Bank.

During his first mandate Morales package of reforms in support of the indigenous population met fierce opposition from the white European stock which owns most of the wealth and the land, and had as a stronghold veto power in the Senate.

In his first statements Morales surprised public opinion when he insinuated he could run again for a third consecutive mandate in 2015.

"Constitutionally it's my first election according to the political Constitution of Bolivia", he said. The current constitution was approved last February.

Under Morales interpretation his 2015 bid would then be his first re-election. For the opposition it would be his second re-election which is not contemplated in the current constitution, one of the agreements on which the new charter was politically approved.

Morales, the first indigenous president of Bolivia was elected in 2006.

Political analysts believe that in spite of victory Sunday's results could further polarize the country between the east and south rich in farmland and hydrocarbon resources, and the rest of the country mostly inhabited by indigenous Bolivians.

Observers from the Organization of American States and the European Union praised the election process and the new voting registry system. No incidents were reported.

For the first time ever an estimated 170.000 Bolivians living overseas were able to vote.

Official results will not be available until a week's time.

Venezuela's Hugo Chavez, Ecuador's Rafael Correa and Argentina's Cristina Fernandez de Kirchner were among the first to congratulate Morales on his landslide victory.