Uruguay exports soar 23.8% in value during 2010 over the previous year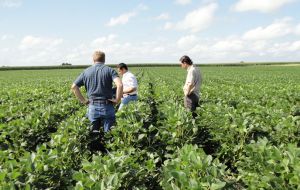 Uruguayan exports soared 23.8% in value during 2010 compared to 2009 which represent a new record according to the country's Union of Exporters. Sales totaled 6.76 billion US dollars while imports to the month of October (the latest Central Bank officially available data) reached 6.7 billion USD, which represent a 18.6% increase in the first ten months of last year.

Brazil was Uruguay's main trade partner having absorbed 21.5% of all exports followed by the free zone of Nueva Palmira, 10.2% and Argentina, 7.5%. China and Russia complete the short list of five which represent half of the country's total overseas sales.

Geographically Mercosur including Chile and Venezuela took 37% of Uruguay's exports in 2010; the European Union, 15%; free zones, 14%; Nafta, (United States, Canada and Mexico) 5% and the rest of the world 29%.

Uruguay's main export item was beef representing 18.6% of all exports, with a 14.2% increase in 2010 over 2009. This was followed by grains with 11.5% and a 1% increase over 2009 and soybeans which represented 10.5% of the total export value.