Ban Ki-Moon sworn is as new UN Secretary General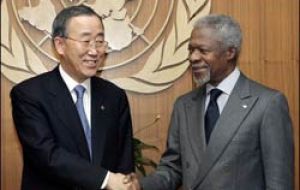 South Korea's Ban Ki-Moon was sworn in on Thursday, before the 192-member General Assembly, as the next United Nations Secretary-General while outgoing Kofi Annan who held the job for ten years was given a prolonged tribute.
Both Mr. Annan, from Ghana, and Mr. Ban, a former Republic of Korea foreign minister, stressed the indissoluble links uniting security, development and human rights as the three pillars of the UN, without any one of which world peace will not be achieved. Escorted by the UN chief of protocol, Mr. Ban left the well of the Assembly to mount the podium where the heads of the Organization's major bodies awaited him and, to loud applause, took the oath of office as the UN 8th Secretary-General, administered by Assembly president Sheikha Haya Rashed Al Khalifa. Earlier, by acclamation the Assembly adopted a resolution of tribute for Mr. Annan who, in the words of Sheikha Haya, has devoted his life to the world organization. "His career has been unique," she said. "He has risen through the ranks of the United Nations and devoted his life's service to the Organization. So, today we are not only bidding farewell to the current Secretary-General, but also to one of the longest serving officials of the United Nations." She stressed that Mr. Annan has stood at the helm as the UN has become a more effective global actor and demands for its services have grown over the past 10 years. "We are grateful to Kofi Annan for having set out a far-reaching reform framework to make the Organization more relevant to the people of the world: a United Nations that lives to serve humanity and the principles of multilateralism," Sheikha Haya declared. "Kofi Annan will leave a lasting legacy. He has guided the United Nations into the 21st century with vision and leadership. As a result the multilateral system is stronger," she added. Her words were echoed by the representatives of the various regional groups, who praised Mr. Annan's role in facing the many challenges confronting the world at large and the UN itself by promoting peace, humanitarian aid, human rights, development for the under-developed, and wide-ranging reform for the world organization as epitomized by his 2005 report, In Larger Freedom. Mr. Annan said that despite many difficulties and some setbacks in the past decade "we have achieved much that I am proud of," citing UN reforms. "It became more transparent, accountable and responsive," he declared. "It began to better address the needs of individuals worldwide. It faced emerging threats, as well as familiar ones, head-on. "And it internalized the notion that development, security and human rights must go hand in hand; that there can be no security without development and no development without security, and neither can be sustained in the longer term without being rooted in the rule of law and respect for human rights," he added. "I depart convinced that today's UN does more than ever before, and does it better than ever before. Yet our work is far from complete â€" indeed, it never will be." Swearing in Mr. Ban, Sheikha Haya underscored his commitment to ensure that the UN lives up to its universal values and principles and, in his own words, "to cut through the fog of mistrust." She pledged the Assembly's readiness to work in close cooperation with Mr. Ban on the three challenges he has made priorities when he takes office on 1 January: to continue to reform the Secretariat by bolstering the integrity, professionalism and morale of staff; to heal divisions and rebuild trust among Member States, the Secretariat, and the global public whom we serve; and to strengthen UN effectiveness to implement its mandates. "I am confident that leading by example Ban Ki-Moon has what it takes to make a great contribution to the Organisation and the global public that it lives to serve," she concluded. Mr. Ban pledged to seek the highest ethical standards and paid tribute to his predecessor's leadership in guiding the UN through challenging times and ushering it into the 21st century. "Secretary-General Annan, I am more than humbled because it is you I am succeeding in what you have described as 'the world's most exalting job.' It is an honour to follow in your revered footsteps," he said. He stressed that one of his core tasks will be "to breathe new life and inject renewed confidence into the sometimes weary Secretariat" and improve human resource management, underlining the UN needs a "dynamic and bold" Secretariat, not a "passive and fearful" one. He pledged to restore trust as a "harmonizer and bridge-builder." And he returned to the Organization's foundations. "By strengthening the three pillars of our United Nations â€" security, development and human rights â€" we can build a more peaceful, more prosperous and more just world for succeeding generations," he declared. "I will do everything in my power to ensure that our United Nations can live up to its name, and be truly united, so that we can live up to the hopes that so many people around the world place in this institution, which is unique in the annals of human history".