Spanish airline Air Madrid suspends all flights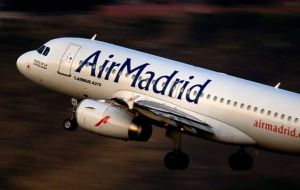 Privately owned carrier Air Madrid suspended all its flights on Friday, leaving tens of thousands of passengers stranded over Christmas and blaming its action on a development ministry threat to suspend its license.
The budget carrier, which has nine aircraft and flies mainly between Spain and Latin America, said ticket sales had fallen dramatically since the development ministry statement on Tuesday and suppliers had refused it credit. "Air Madrid has decided to suspend its activities from today," the airline said in a statement. "The development ministry .... has managed to completely destroy Air Madrid's commercial image and has placed our company in a very serious crisis which prevents us from carrying on our work," it added. No one was available to comment at the ministry, which is responsible for transport policy and which said on Tuesday that it might suspend Air Madrid's license following a series of long delays in flight departures and near-riots at airports. The delays of up to 60 hours resulted in stormy protests at airports and forced some passengers to spend the night sleeping on their aircraft while waiting for it to take off. The airline said the vast majority of its suppliers were refusing to provide goods and services on credit because of the wide media coverage of the ministry's threat. State radio said between 200,000 and 300,000 passengers could be stranded as a result of the airline's action. Its main destinations were Buenos Aires, Sao Paolo and Mexico. "From whom do I reclaim the lost journey and Christmas with my family?" asked one disgruntled passenger due to travel on Saturday, in a note on the message board of the newspaper El Mundo. The ministry said on Tuesday that Air Madrid had not fully carried out an action plan to cut delays, and gave the airline until Thursday to present new information to support its case to keep flying. In response, the airline promised to cut its flights by 20 percent, scrap some routes and offer discounts to delayed passengers.