Lord Triesman speaker at Falklands' Forum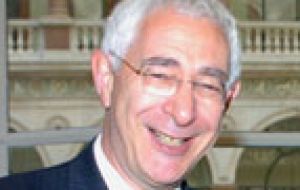 Lord Triesman, Parliamentary Under Secretary of State at the Foreign and Commonwealth Office confirmed he will be addressing the Falklands Forum next April in London.
In a brief message with season's greetings to the Falkland Islanders and apologizing for not being able to meet the December 15 to16 appointment in the Islands, because of weather conditions at Mount Pleasant, Lord Triesman praised the successful development of the Islands in the last quarter century adding "I was looking forward to my first visit to the Falkland Islands. It was unfortunate that bad weather meant I was unable to do so. I understand that the flight which I was due to take was held on Ascension Island for several days and did not reach the Falklands until Sunday morning. I hope this has not proved too disruptive to any on the Islands travelling to the UK for the Christmas Holidays". "The year ahead will, of course, see increased public and media interest in the Falkland Islands. I know that this will be an important opportunity for you to demonstrate the successful development of the Islands over the last quarter of a century and I had very much been looking forward to appreciating this first hand. I am pleased to be able to speak at the Falklands Forum in London in April next year, an event which will support your continuing development". "May I take this opportunity to wish you all on the Falklands a very Merry Christmas and a safe and prosperous New Year." Lord Triesman did however manage to complete his second leg of the planned trip which was two days in Chile, where it was agreed to set up permanent high level political dialogue and increase bilateral cooperation between the two countries. On Tuesday he gave a very much acknowledged conference before the Chilean Institute of Foreign Affairs at the University of Chile titled, "America 2015, shared vision?".