Market will continue to call for soybean acres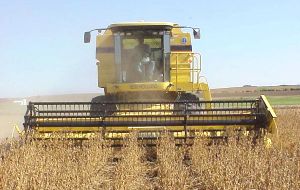 It's beginning to sound like a scratched CD, but supplies of soybeans are large.
The market, though, is bidding up soybeans so producers will keep soybeans in their rotation for 2007.
U.S. ending stocks for Aug. 31, 2007 are projected at 565 million bushels.
Global oilseed production for 2006/07 is projected at 395.5 million metric tons, or about 14.5 billion bushels. Soybeans are in a surplus situation, but that supply is offset by the idea that soybean acres could be off significantly, said Darrell Good, University of Illinois Extension grain marketing economist. "That surplus will likely be used up next year," he said. "The soybean market is basically trying to protect a little bit of turf. We recognize soybean acres are going to go down, but we can't afford to see it go down too much." On the Chicago Board of Trade, soybeans traded on Dec. 15 with the January contract at $6.57 1/2; March at $6.72 1/2; May at $6.85 1/2; July at $6.96; August at $7, and Nov. 2007 at $7.14 1/2. Compared with early December, those prices were 28 cents lower for January and March and 20 cents lower in mid-2007 and going on. "On new crop, I think that's what we're going to try to maintain on the Board," Good said. According to the Chicago Board of Trade website, Brazil producers have used recent rallies to book sales of new crop soybeans. Some estimates suggest producers there have sold 30-40 percent of their new crop. China continues a rapid importing pace - bringing in 25.85 million metric tonnes in 2006 - 949.7 million bushels. Soybean imports are up 7.8 percent from 2005. China is buying and crushing soybeans at a rapid rate, said Good. With the U.S. dollar going down in value, soybeans look attractive as a back shipment to Asia. "South America also exports in dollar values, so the competitive relationship does not change," he said. "Soybeans in general, though, become more attractive to buyers." Most reports indicate that the South American soybean crop in Argentina, Brazil and Uruguay is off to a good start. Planting conditions sound favorable, and most areas have received rain. Good indicated that southern Brazil is getting dry. "The development of the South American crop is taking on some increased importance for soybean prices," said Good. "USDA did raise their forecast of Argentine crop potential. For the most part, Brazil and Argentina are off to a very good start." From an end user standpoint, it's important that soybean production continues to expand. "The combination of production here and in South America and, if in fact we are in a longer trend of increasing corn here at the expense of soybeans, we will need to see Brazil step up with more soybean acres in the future," said Good. "That's what is probably going to support soybean prices the most - what price does it take to encourage more soybean acres in South America? "You could make the case that we do need to maintain prices up on the Board at $7 higher into this time next year to make sure that South America plants more acres," he added. Good said there are areas in Brazil that can still be developed for soybeans. The limiting factor, in addition to the soybean price, is the development of infrastructure to expand into new lands. South America also seems to be getting a good handle on controlling soybean rust, although costs of production have increased. In the upper Midwest, cash soybean prices on Dec. 15 ranged from $5.78 to $6.02 according to the Toolshed Ag Information Network. At one west central Minnesota elevator followed in this column, soybeans were $5.97 with a basis of 61 cents under. As compared with prices in early December, the cash price was 23 cents lower. One interesting item to note was the basis had narrowed by 5 cents. "Independently, with the supply situation we have, it's hard to make a case for higher soybean prices," said Good. "But I think soybeans will continue to follow corn."