Priest and General ticket lead opinion polls in Paraguay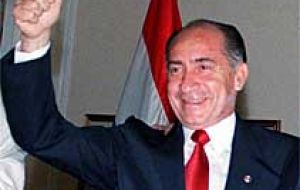 A priest and a controversial former general is the most attractive ticket for voters in Paraguay, according to a poll by First Análisis y Estudios published in Asuncion's main daily ABC Color. The ticket comprised of Fernando Lugo and Lino Oviedo has a 27.3% support for the next presidential election, scheduled for April 2008.
Current president Nicanor Duarte and vice-president Luis Castiglioni of the National Republican Association, Colorado Party (ANR) are second with 24.8%, followed by Duarte and Pedro Fadul of the Beloved Homeland Party (PPQ) with 17.9%, Fadul and Central Department governor Federico Franco with 15.4%, Castiglioni and Education minister Blanca Ovelar with 9.3%, and Lugo and Franco with 1.8%. Lugo served as bishop in the diocese of San Pedro, located in one of Paraguay's poorest areas. As a priest, he requires an official permit from The Vatican in order to become directly involved in politics. Oviedo is the founder of the National Union of Ethical Citizens (UNACE). In 1996, Oviedo launched a failed coup against the government of Juan Carlos Wasmosy and is currently jailed. Duarte won the April 2003 presidential election with 37.1% of all cast ballots. The Colorado Party has been involved in Paraguay's government since 1947, even during the dictatorship of Alfredo Stroessner. Duarte has proposed a constitutional amendment, which requires the support of more than half of the elected lawmakers in both chambers, to seek a new five-year term. ANR currently holds 39 of the 80 seats in the Chamber of Deputies, and 18 of 45 mandates in the Senate. Last December 13 representatives from several opposition parties, including UNACE, the PPQ, the Authentic Liberal Radical Party (PLRA), the Party for a Country of Solidarity (PPS), and the National Agreement Party (PEN), signed a declaration to pursue victory in the 2008 election and "allow the changes that will enable us to build a fairer Paraguay". President Nicanor Duarte Flores indirectly replied to the challenge by underlining the performance of the Paraguayan economy which is expected to grow 4.1% this year and 5% in 2007, driven by strong exports of key products such as soybeans and beef. "I hope the weather is good to us so that in 2007 we can grow 5% and end up with 8% growth in 2008", said Duarte in Asunción. Paraguay's gross domestic product (GDP) expanded 2.9% in 2005. A Finance Ministry report said the forecast for stronger growth next year was due to the improved outlook for agricultural exports following three years of disappointing harvests caused by prolonged dry spells. Paraguay is among the world's leading soybean exporters. The report said 2006 exports totalling an estimated 1.979 billion US dollars represented a record in foreign sales.