Argentina's international reserves set to reach 43 billion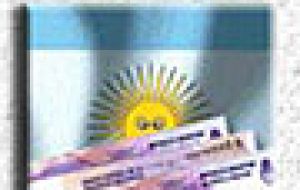 Argentina's Central Bank international reserves are set to reach 43 billion US dollars by the end of next year according to estimates from the private BBVA Banco Francés, released Tuesday in Buenos Aires.
Estimates for 2007 indicate reserves will keep climbing a further 11 billion US dollars, mainly because of the country's growing trade surplus estimated between 13.5 and 14 billion US dollars. International reserves currently stand at a record 31.5 billion US dollars in spite of the fact Argentina cancelled all pending debts with the IMF totaling 9.5 billion US dollars. Furthermore the Debt/GDP rate has fallen to 57/58% compared to 140% in 2002. As to the public sector, BBVA forecasts Argentina will comfortably face all debt payments in US dollars plus interests, 75% of which will be compensated with the international reserves. Last week official data showed that Argentina's country risk was down to 218 points, after having reached over 5.000 points in the peak of the 2001/02 financial and banking crisis. Argentine sovereign bonds have again become attractive. Last week President Nestor Kirchner said the Argentine economy "was advancing and with great strength", which is signaling "an entirely different country". Kirchner pointed out that the country's exports in 2006 had jumped 15% and for the fourth year running Argentina had a budget primary surplus (before debt payments) that in 2006 is expected to reach 7.5 billion US dollars. The nominal exchange rate between the Argentine peso and the US dollar is expected to remain stable with no surprises, probably ending 2007 at 3.20 from its current 3.08 pesos. With Argentine inflation estimated in the range of 10% and US inflation 1.8%, the real exchange rate is expected to appreciate in the range of 4.5%, which is just above market estimates.