London: "Once again off the New Year in style"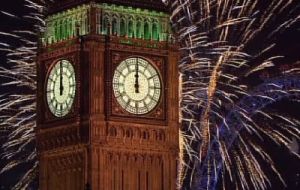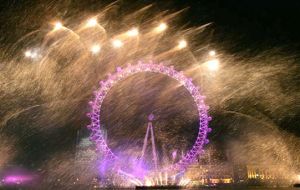 "London has once again kicked off the New Year in style," says Mayor of London Ken Livingstone, who funded and organised the event in conjunction with Visit London.
"My very best wishes for 2007 to all Londoners and everyone who came to the capital, which is the most exciting place in the world to bring in the New Year. "Hundreds of thousands of people gathered in the centre of London for the countdown to midnight and the spectacular fireworks display. Millions more up and down the country and around the world will have been able to see the show on television. "There has been atrocious weather around the country tonight and we wish to send our best wishes and goodwill to those who saw their New Year's Eve disrupted. "Happy New Year and the very best for 2007." The display was created by Jack Morton Worldwide and pyrotechnic specialist Christophe Berthonneau. 30 staff worked on-site for a week to prepare the display. The London Eye closed to visitors at lunchtime on Sunday to allow contractor to put the finishing touches to the display. The event began at 8pm with lighting effects and giant images projected onto the Shell Centre in Belvedere Road. The projections, entitled Dreams for London, featured the hopes and aspirations for the future of pupils from Johanna Primary School in Waterloo. At 11.59pm a digital clock was projected onto the Shell Centre, signalling the 60-second countdown to midnight. After Big Ben had struck 12, London heralded the start of 2007 with a ten-minute pyrotechnic display that included fireworks off the London Eye and from barges on the Thames. People watched from along Victoria Embankment, Waterloo Bridge and Westminster Bridge. Streets within the triangle bounded by the Thames, Waterloo Road and Lambeth Road were closed from 8pm on New Year's Eve.