El Niño and global warming could make 2007 the "hottest year"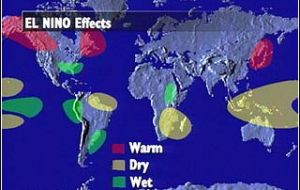 A British climate expert said 2007 could be the hottest year ever recorded because of a combination of global warming and El Nino.
Phil Jones of the University of East Anglia said the year could be warmer than the previous record-holder, 1998, The Independent reported. El Nino makes the world warmer and we already have a warming trend that is increasing global temperatures by one- to two-tenths of a degrees Celsius per decade, he said. Together, they should make 2007 warmer than last year and it may even make the next 12 months the warmest year on record. James Hansen -- a professor at Columbia University in New York and head of the NASA Institute of Space Studies -- agreed with Jones, the newspaper said. In an interview, he warned that climate change could become irreversible unless emissions of greenhouse gases are cut sharply soon. El Nino is a warming of the waters of the tropical Pacific which occurs every few years and has an effect on weather worldwide. The last El Nino event was in 1997 and 1998. Last December was the hottest winter in the United Kingdom since 1659. Hansen said that climate change could increase the level of the seas and cause the extinction of species. His position is shared by the scientific advisor to the UK government, David King, who underlined it is "essential" to reach an agreement on carbon emissions as soon as possible. In 1997/98 El Niño caused the death of 2.000 people and damages world wide estimated between 30 and 37 billion US dollars.