Ambitious project to recover Uruguay's flag carrier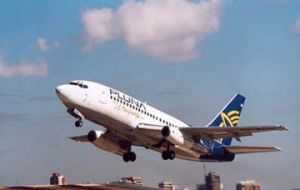 The international investment group which is capitalizing Uruguay's flag air carrier PLUNA plans to balance the deficit ridden company by the end of this year with a five to six months "restructuring plan" to be implemented once the incorporation of the group is signed at the end of January.
Leadgate Investment Corporation, which according to Uruguayan officials is made up of investors from Germany, Untied States, Argentina and Uruguay has plans to invest 177 million US dollars in PLUNA, including the purchase of twenty new aircrafts. However one of the main issues to address by the group is restructuring PLUNA's liabilities estimated in over 30 million US dollars. Five new aircrafts should be joining the Uruguayan flag carrier towards the end of the year. Apparently most aircrafts will be purchased from Brazil's EMBRAER and financed by Brazil's National Economic and Social Development Bank which acts as a financial promoter of Brazilian exports. Uruguayan Economy minister Danilo Astori said Leadgate Investments Corp incorporation is a two year, two stages Project which will completely "transform PLUNA, making her the main access for European and North American travelers to Uruguay". In the first stage 15 million US dollars in cash will be incorporated plus another 10 million in credit lines while the other 152 million US dollars will be entirely invested in expanding the fleet. As many Latinamerican government owned and managed airlines PLUNA never was able to take off from the red and in the mid nineties an association was reached with Brazil's Varig, which held 49% of shares, but in 2005 the Brazilian flag carrier went into liquidation and the Uruguayan government was forced to recover the full package. That same year Uruguay injected another 20 million US dollars to PLUNA, paid some pending debts, from Varig, to keep the airline in the air and decided to look for a private investor with experience in the air industry management. According to the agreement reached, which still has to be ratified at the end of the month, Leadgate Investments Corp. takes control of 49% of Pluna's shares, Uruguayan associates 26% and the Uruguayan government retains 25%; this means that 51% of shares will remain in Uruguayan hands, private and government, complying with the country's legislation. Rafael Rodriguez, the visible head of the Uruguayan investors, who really is also an associate of the main Leadgate Investments, said that the company's plans are to consolidate in the region and then with new aircrafts increase flights to Madrid and begin traveling to Miami. "Once all this in place, with connections in Europe and the US, the company should begin making money and recovering the initial investment, probably in 18 to 24 months time", said Rodriguez interviewed by a Montevideo radio station. Uruguay is estimated to have lost 100 million US dollars since PLUNA associated with Varig in 1995, having to inject 74 million US dollars to keep the airline in the air. After having recovered Varig's shares, the Uruguayan government in September 2006 had control over 97.61% of PLUNA and given the mounting losses, and debts, decided to invite tenders from the private sector. Sixteen turned up and Leadgate Investments Corp was selected even when their capital integration was second best, but their long term development of PLUNA apparently was decisive in convincing Uruguayan authorities and an international air industry expert contracted to advice on the operation. "It's better to have 48% or 25% of something which promises to be profitable than 100% of something which only adds losses", said a spokesperson for the company. But in spite of the optimism, PLUNA workers union is not so convinced. "We want to see if the structuring plan creates new jobs and does not eliminate jobs as has been announced", said Fernando Alberti. PLUNA's personnel who hold 0.36% of the company's stock have also requested to be included in the next board of directors, with voice but no vote, and demanded the Uruguayan government makes a strict monitoring of the new company. "That did not happen when they held 48% of shares in Varig's time, why should it be different now with only 25%", said Alberti.