Peru pushes to make Inca city one of world wonders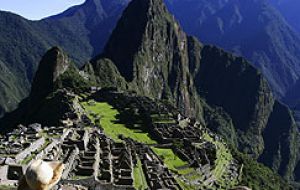 PERU'S government, seeking to boost tourism in the Andean country, is urging residents and visitors to vote for the ancient Inca site of Machu Picchu as one of the world's new seven wonders.
Maria Seminario, general manager of the tourism promotion agency PromPeru, said today Machu Picchu was in the top seven of of 21 finalists before the July 7 announcement of the winners in Lisbon by the New7Wonders Foundation. "Now we need to consolidate that. Being No.1 would be ideal," Ms Seminario said. "We think now is the right time for the big push." Posters on city streets call on Peruvians to vote for the well-preserved site on a mountain ridge. Built in the 1460s and abandoned for three centuries after the Spanish conquest, Machu Picchu, or "Old Peak" in the Quechua language, was rediscovered by US archeologist Hiram Bingham in 1911. Machu Picchu visitors get leaflets on how to cast a vote, either via the internet www.new7wonders.comor by phone. Starting next week, an ad will air on public television channels and some airlines operating in Peru, Ms Seminario said. "Machu Picchu is wonderful and incomparable, not only for its unique architecture. The natural beauty is astounding," she said. "We hope the vote will strengthen this tourism icon of Peru and more people will be willing to visit it." The list of wannabe wonders has already been narrowed from 77 in what organisers of the poll say is "the biggest global vote ever to have taken place". Among the major contenders are the Sydney Opera House, the Eiffel Tower in Paris, the Taj Mahal in India and St Basil's Cathedral in Moscow. Competition has been tough and quite a few candidates have been eliminated, including the leaning tower of Pisa and San Francisco's Golden Gate bridge. The New7Wonders Foundation was set up in 2001 by Swiss adventurer Bernard Weber to protect humanity's heritage. Only one of the seven wonders of the Ancient World survives - the Great Pyramid of Giza in Egypt. The other six were the Hanging Gardens of Babylon, the statue of Zeus at Olympia, the Lighthouse of Alexandria, the Colossus of Rhodes, the Mausoleum at Halicarnassus and the Temple of Artemis at Ephesus.