US and EU ratify commitment to the Doha trade round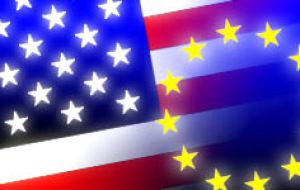 United States president George W Bush and the European Commission president Jose Manuel Barroso ratified Monday their commitment to seek fresh ways of overcoming differences and reaching an agreement on the Doha Round trade talks.
"We've given instructions to our negotiators to reach a solution as soon as possible. We've had a very good exchange", said Mr Barroso following a meeting with President Bush in the White House. "Doha is not only trade, it's also development and we are in a defining moment to re-launch the process", said Barroso who called on other world players to join and help to reach "an authentic global agreement." Disagreement over agriculture caused the Doha talks to be suspended in Geneva last year. President Bush said that both the US and the EU recognized that "the best way to help impoverished nations is to complete this Doha round to encourage the spread of wealth and opportunity through open and reasonable and fair trade". However in spite of the encouraging statements no details of possible proposals to reactivate multilateral trade negotiations were revealed. The Doha round which was launched in 2001 was scheduled to have concluded at the end of 2006. European Trade Commissioner Peter Mandelson who was also in the delegation that visited Washington earlier in the day said negotiations between the US and EU were on a "knife edge". Brussels says US inflexibility is responsible for the breakdown between the two sides, while the US says Europe has failed to open up its markets. The EU is demanding that the US cut its farm subsidies from 23 to 15 billion US dollars annually. In exchange the EU is willing to adopt similar tariffs' reductions. Pressure to reach a deal has been mounting as President Bush's special "fast-track" authority to negotiate US trade deals expires this year. After 30 June 2007, Trade Promotion Authority will expire, giving the US Congress the right once again to change such agreements. With this very much in mind Mr. Barroso insisted in the "defining moment" both US and EU face, since the "alternative is back stepping several years at very high costs for world trade". Trade between the EU and US represents 40% of global trade, at over a billion US dollars per day with two thirds of investments in the US coming from EU. Besides trade Bush and the EU delegation talked about Middle East, the Iraq conflict, the Darfur crisis in Sudan, Iran's nuclear capacity, energy security and climate change.