HMS Endurance hosting Princess Anne Antarctic visit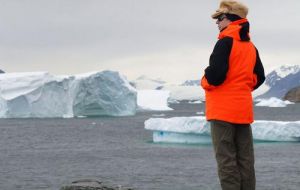 The Royal Navy's ice patrol ship HMS Endurance is hosting HRH The Princess Royal in Antarctica the first time in fifty years that a British Royal has visited the British Antarctic Territory.
Her Royal Highness Princess Anne has visited the British Antarctic Survey's main base at Rothera to see at first hand the world-class work of British scientists. Additionally, in her capacity as patron of the UK Antarctic Heritage Trust, she will be visiting some of the UK's historical sites in the British Antarctic Territory, including the former British base at Port Lockroy, the only Historic Site in Antarctica to be operated as a living museum. To underline the close international collaboration that exists among the scientific communities in Antarctica, during her eight day visit Her Royal Highness will visit a US scientific station and a Ukrainian research base. HMS Endurance after spending a brief stand in Rio do Janeiro over the festive period is back again at work in the Antarctic Peninsula continuing her important task of surveying uncharted waters. The ship also supports the British Antarctic Survey in their scientific work, which includes studying the effects of climate change. After three more months of work in Antarctica, and following March which marks the start of the International Polar Year, Endurance will commence her passage home in April via South and West Africa conducting diplomatic tasking on behalf of the FCO and the MOD. Having sailed from the UK in September 2006, she will return to her home base of Portsmouth in early June 2007, marking the end of her inaugural 9 month deployment, the longest to date.