Mercosur approves compensation funds for junior members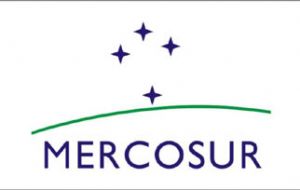 Mercosur Council approved Thursday in Brazil several pilot projects in Uruguay and Paraguay to compensate asymmetries inside the group which have created rifts among country members.
The Mercosur Structural Convergence Fund, FOCEM, with initial funding of 70 million US dollars has earmarked 12 million for social promotion; 16 million to combat foot and mouth disease; 5 million for a micro enterprises support program and a similar figure for road building in Uruguay. The appropriations for the requested projects were approved by the Mercosur Council, --which is made up of the group's Economy and Foreign Affairs ministers--, with the purpose of compensating Uruguay and Paraguay for their small percentage of intra-group trade volume compared to the major members, Argentina, Brazil and Venezuela. The approval of the compensation fund was one of the main objectives of the current summit, which looks to strengthen integration helping junior members of Mercosur, with weaker economies. Uruguay and Paraguay h have repeatedly expressed their dissatisfaction with the scarce benefits from the group's functioning and have requested greater "market access" from Argentina and Brazil, and "flexibility" regarding authorization to sign trade agreements with third parties. This was one of the central issues of Friday's summit agenda, together with the incorporation of Bolivia, currently with associate status, but which is asking to become a full member. Brazil's President Lula da Silva who is hosting the summit in Rio do Janeiro has warned that only if "asymmetries between member countries are addressed", can South American integration continue to advance. "Without integration there's no way out for Latin America", said Lula da Silva during the inauguration of one of the several forums and conferences in the framework of the Mercosur presidential summit. Meanwhile Venezuelan president Hugo Chavez on arrival at Rio said he was determined "to decontaminate Mercosur from neo-liberalism", which were interpreted as "very strong" words for the current situation of Mercosur. Chavez denied charges he was wanting to "radicalize or poison the integration process with ideology", as was suggested in the Brazilian press. "I haven't come to contaminate, what has contaminated us is neo-liberalism", he insisted, adding that "reformatting Mercosur is absolutely necessary". Another issue for Friday is Bolivia's integration to Mercosur, following on President Evo Morales request. However although some country members are very enthusiastic Brazil apparently is more cautious about the issue and has proposed.