Queen Mary 2 calls in Montevideo for 15 hours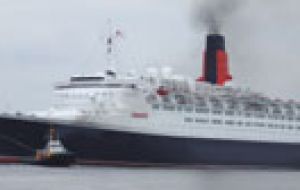 Queen Mary 2, one of the world's largest passenger ships and currently on its first ever world cruise, an 81 day circumnavigation of the globe, called in Montevideo last Saturday for fifteen hours.
An estimated 2.600 affluent tourists landed in Montevideo patronizing the city's attractions, restaurants, shops and taxis. Leather goods, antiques and souvenirs were most in demand as were meals with Uruguayan beef and red wine. QM2 boasts a 1 to 2, staff to passenger ratio (2.6120/1.254), six restaurants, five swimming pools, an art gallery and the world's first on-board planetarium. Respecting history, one of the ocean liner's whistles is from the original Queen Mary. QM2 was launched in 2004, has a tonnage of 151.4000, is 1.132 feet long and has twelve decks. Until recently, the Queen Mary 2 was the world's largest passenger ship, but it lost its title when Royal Caribbean begun operating "Freedom of the Seas".