Bolivia's Morales reshuffles cabinet and ratifies reforms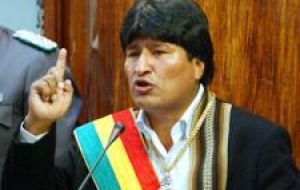 Bolivian President Evo Morales reshuffled this week almost half of his sixteen members' cabinet a day after celebrating his first year in office.
Morales ratified David Choquehuanca (Foreign Affairs); Walker San Miguel (Defense); Carlos Villegas (Oil); Luis Arce (Finances); Juan Ramon Quintana (presidency); Abel Mamani (Water); Celinda Sosa (Production); Jose Dalence (Mining); and Nila Heredia (Health). Among those sacked was Education minister Felix Patzi, whose reform plans had provoked criticism from the Catholic Church, and Interior minister Alicio Muños was also removed after coming under pressure for failing to curb social unrest. The new nominations are Alfredo Roda (Interior); Gabriel Loza Telleria (Development and Planning); Victor Caceres (Education and Culture); Walter Delgadillo (Labor); Celima Torrico (Justice); Susana Rivero (Rural development and Agriculture) and Jerjes Mercado (Public services and works). Morales recalled that on taking office a year ago and naming his cabinet he promised he would address the "great changes" Bolivia needs in order "to serve the most destitute and abandoned". Patzi came under heavy criticism from the Catholic Church after proposing that religious education classes be replaced with language classes in Bolivia's native tongues. He had also planned to make it compulsory for all government employees to speak at least one native language if they wanted to keep their jobs. Former Interior minister Muñoz was replaced after the opposition accused her of failing to stem social unrest in the country. According to Bolivian media, the president reduced the number of ministers of indigenous descent, and incorporated more middle-class politicians from the radical left to his cabinet. During the one year ceremony President Morales promised further radical measures to alleviate poverty by redistributing wealth in South America's poorest country. He also pledged to raise taxes on foreign mining companies and re-distribute 20% of Bolivia's land to poor peasant farmers, a decision which has the richest provinces of the country virtually up in arms. Led by oil and agriculture rich Santa Cruz province, anti Morales political forces and pro market groups have neutralized the workings of a Constitutional assembly, --(responsible for the founding of the "new" Bolivia)--, and are strongly pushing for an autonomous statute. This has led to peasant movements' supporters of President Morales to block roads and move into Cochabamba province attacking elected authorities. On January 23 in a display of force, Morales and Bolivian military chiefs attended a rally of armed indigenous peoples known as the "Red Ponchos" (Ponchos Rojos) who support the president in the Andean region of Omasuyos. Morales expressed his gratitude, saying, "I urge our Armed Forces along with the 'Ponchos Rojos' to defend our unity and our territorial integrity." The opposition accused Morales and the Armed Forces of supporting "illegal militias." The latest public opinion polls show president Morales loosing support, having dropped from 67% last November to 59% in January. The poll by Apoyo, Opinion y Mercado also shows the disapproval rate in the same period has jumped from 30 to 36% and the percentage of undecided grew from 3 to 5%. Morales, the first elected indigenous president, won the December 2005 election as the candidate for the Movement to Socialism (MAS), with 53.72% of the vote.