Finnish government "does not interfere with private sector"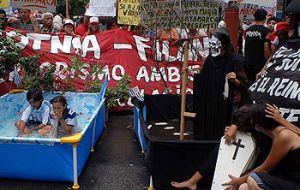 In spite of the insistent protests and Thursday's colorful march in downtown Buenos Aires against the construction of a controversial Finnish pulp mill in Uruguay, the Embassy of Finland said that the Helsinki government does not interfere with private undertakings.
Argentine environmentalists and residents from Gualeguaychu in Argentina just across from where the Botnia-Orion plant in under construction protested in front of the Finnish embassy with a display of the alleged irreparable damages that such a plant would represent for the river Uruguay that acts as a natural border between neighbouring countries. However in a release the Finnish embassy said it did express "the concerns" to Botnia and underlined that it's willing to "facilitate the dialogue" with its maximum efforts, between Argentina and Uruguay. Finland "does not accept that the State interferes with a project from a private company that abides by the requirements and standards of the country hosting the investment". Botnia is a Finnish company involved in an operation in Uruguay with all the legal permits and authorizations from the local government and "the positive results of accumulated environmental and social impact assessments from the World Bank". Following this week's International Court of Justice ruling that turned down Uruguay's request for provisional measures forcing Argentina to remove pickets blocking the free movement of people and goods between both countries, Finland is hopeful that Argentina and Uruguay "will do everything possible to find a reasonable and negotiated solution" and supports all efforts and processes which seek to solve the pulp mill question as soon as possible. Finally the release indicates that Finland "offers all the information requested" on the country's forestry industry, environmental protection and environment legislation, all of which must be complied by Finnish companies. It also recommends Botnia to continue distributing all the necessary information about environmental issues regarding the Orion plant project under construction. In related news Argentina's cabinet chief Alberto Fernandez said he believed that the imminent arrival of the Spanish Crown envoy to "facilitate a dialogue" was a "good opportunity" for Uruguay and Argentina to address the dispute. Spanish Ambassador Juan Antonio Yañez is scheduled to arrive in Buenos Aires this week end to resume his "dialogue facilitator" role commissioned by King Juan Carlos. "I think it's a good opportunity to resume dialogue", said Fernandez who nevertheless cautioned it was a time "to be prudent" about the recent ICJ ruling.