Norovirus outbreak affects 300 on board QE2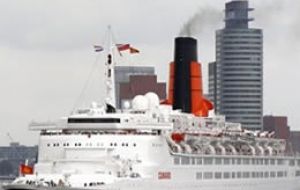 A Norovirus outbreak was reported to have affected more than 300 passengers and crew members aboard the world-famous Queen Elizabeth 2 (QE2) before the ocean liner docked in San Francisco Wednesday for a regularly scheduled stop, according to news reports.
The ship started the latest around-the-world journey on January 8 from New York. The norovirus outbreak was believed to occur after it left Fort Lauderdale, Florida on January 10. Health officials from the Centre for Disease Control and Prevention from Atlanta boarded the ship in Acapulco, Mexico to investigate the outbreak after the agency was reported that more than 300 passengers and crew members came down with suspected norovirus infection. Among the affected were 276 passengers of the 1,652 passengers or 17 percent and 28 crew members. The crew performed "enhanced sanitation" operations in response to the outbreak, according to Brian O'conner, the spokesman of Cunard Line, the owner of the ship. The predominant symptoms associated with the norovirus infection aboard the ship were diarrhoea and vomiting, the CDC states on its website. By Wednesday, all the affected except three or four had recovered from the norovirus. The ship operator believed that a passenger form New York probably brought the virus aboard, causing the norovirus outbreak. Norovirus outbreaks occur from time to time aboard cruise ships. In 2006, a total of 34 outbreaks occurred aboard cruise ships, according to the CDC. A latest confirmed norovirus outbreak occurred last month aboard the world's largest cruise ship, Royal Caribbean's Freedom of the Seas, infecting 338 passengers out of 3.823. People can get infected with this virus by eating food or drinking liquids that are contaminated with norovirus or touching surfaces or objects contaminated with norovirus, and then placing their hand in their month. The transmission could also occur when one person touches another who is infected with the virus, according to the CDC.