Polished Valparaiso "invaded" by 8.000 cruise visitors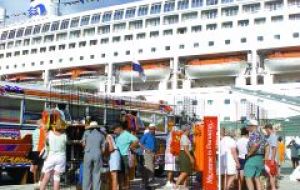 Three cruise vessels including "Queen Mary 2" called Friday in the Chilean port of Valparaíso with thousands of tourists, following a similar situation the previous Wednesday with the "Discovery".
Early morning "Minerva 2" and "Cristal Serenity" docked in and they were followed later by QM 2, totaling over 8.000 visitors all of which left late in the evening. According to Valparaiso's press the local police added 500 men on the beat plus another 200 undercover to ensure the safety of the visitors while they toured the city's attractions or simply enjoyed walking around and taking pictures. Three hundred coaches were contracted to transport the visitors who had an additional bonus, earlier in the morning local authorities had swept and watered the city, clearing all garbage making local residents wish cruise tourists visited them more often, reports the Valparaiso press. All Friday's activities went smoothly in spite of the fact that Valparaiso dock workers, staff from Agriculture's Animal Health Office and Customs had threatened with work stoppages to protest the privatization of most of the port's operations. However, only thirty people turned out to protest and port activities were described by authorities as "normal".