China begins filling its strategic oil reserves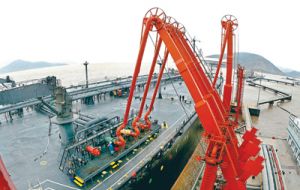 China's first strategic oil reserve base station has begun to be filled in Ningbo, Zhejiang province, according to reports from the country's National Development and Reform Commission (NDRC). This is the latest step in China's efforts to ensure a strategic oil reserve.
But the challenges represented by China's size and fast growing economy could make building up a reserve difficult admitted NDRC secretary-general Han Yongwen. "Compared with Japan and other countries, China is late in developing its strategic oil reserves, and the size of the reserve is small" said Han. "Given the country's huge population and vast territory, our reserve capabilities are still insufficient". China has become the world's biggest oil consumer behind United States and according to government plans the strategic reserve could reach 150 million barrels of oil. Beijing approved the construction of four national strategic oil reserve bases in 2004. The other three are in Daishan, also in Zhejiang Province; Huangdao, in East China's Shandong Province; and Dalian, in Northeast Liaoning Province. Official statistics show China imported a record 145.18 million tons of crude oil last year, making it the world's largest oil importer after the US and Japan. Zhu Hongren, vice-director of the NDRC's Economic Operation department, said the constraints in the country's coal, electricity and oil supplies were greatly relieved last year. China's coal reserve stood at 144 million tons by the end of 2006, of which 24.11 million tons were set aside for power plants, which was normal compared to the previous year, he said. Han also announced China would take the domestic situation into consideration when setting refined oil prices. Apparently NDRC is planning to link domestic gasoline and diesel prices to the cost of crude oil in international markets, plus a fixed margin for domestic refiners. Zhu forecasted tight markets for coal, electricity and oil would ease this year, but more "structural problems" would emerge. In related news Iran signed a preliminary agreement with Spain's Repsol and Royal Dutch Shell to produce liquefied natural gas from its South Pars gas field. "This contract is the largest project in terms of investment and the volume of gas converted to LNG," said the head of national Iranian oil company, Gholam Hossein Nozari. However the final decision on the investment, which the agency valued at ten billion US dollars, would be made by the end of 2007. "The upstream work of phases 13 and 14 (of South Pars field) will be carried out on buyback terms," Nozari said, adding the Anglo-Dutch firm shell and Repsol would each have a 25% share while Iran retains the rest of the project aimed at producing 16 million tonnes of LNG annually. Iran sits on the world's second largest proven reserves of natural gas after Russia but faces investment problems in developing the fields.