Poll reveals that Europeans are not happy with the Euro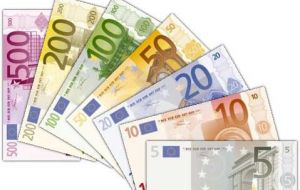 A majority of people in France, Germany, Spain and Italy feel the euro has hurt their economies, according to a poll published Monday in the Financial Times. The FT-Harris survey found more than half of citizens questioned in the big euro zone countries said they preferred their former currency.
In France, Italy and Spain, more than two-thirds of people questioned said they thought the single currency had had a "negative impact" on their economy, according to FT. More than half felt this way in Germany. However, a greater number of citizens in Germany, Italy and Spain felt the euro had had a positive impact on the EU economy as a whole than a negative effect, the newspaper said. The French position was the reverse. European Economic and Monetary Affairs Commissioner Joaquin Almunia, who oversees how euro zone countries comply with the rules that underpin the euro said people were projecting their political frustrations onto the single currency. "We have political problems because public opinion is not happy with how Europe is doing and the euro is one important symbol of Europe . . . the problems are political" insisted Almunia. "We are in economic recovery... the problems are political" he told reporters on his way to Brussels for a meeting on the euro. The survey also found most adults in the largest European countries thought migration had lowered wages and only a quarter were positive on the accession this year of Bulgaria and Romania into the European Union. The FT public opinion poll questioned 5.314 adults in Germany, France, Spain, Italy and Britain - not a member of the euro zone. It was conducted last month. The euro zone was enlarged to 13 members at the start of 2007 when Slovenia became the first of the 10 countries which joined the European Union in 2004 to adopt its single currency.