Last minute agreement averts British Airways full strike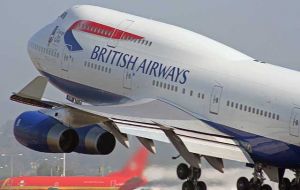 British Airways averted a strike by flight attendants, reaching agreement on pay and sick leave hours before the two-day walkout was due to start Wednesday. The deal was finally nailed down after more than 120 hours of talks between the company and the Transport and General Workers' Union.
The airline, which had cancelled 1300 flights in preparation for the strike, said all long-haul routes and some short-haul flights would be restored. It will increase pay for cabin crew by 4.6% this year. Cabin crew members voted in January to strike after objecting to reductions in sick leave and the number of attendants on planes. The cuts were part of CEO Willie Walsh's plan to save £ 50 million in costs. Under the agreement, the top base pay of flight attendants hired after 1997 will be increased to £19,418 a year from £15,748. These employees have been paid less than workers with longer service. The carrier has faced a series of disruptions in the past year, including union rejection of its pension proposal, security alerts at London's Heathrow Airport and foggy weather. The settlement may clear the way for Walsh to continue trimming costs at the airline. The carrier still needs to solve a £2.1 billion pension deficit before it can upgrade its fleet with more fuel-efficient airplanes. Walsh cut sick leave for cabin crew members to 12 days from 25 days a year. The average sick leave for flight attendants at Ryanair, Europe's largest discount carrier, is three days, according to chief executive officer Michael O'Leary. Walsh said the agreement "puts in place a system to regulate how we manage sick leave", but offered no details. British Airways needs its four main unions to agree to its pension proposal. Amicus and the British Airlines Pilot Association have voted to recommend the proposal to their members. The GMB union, which includes baggage handlers and ground staff, rejected the plan on January 12. The Transport union had planned to strike for three days starting on January 29, with two more three-day strikes in February. It called off the first 24 hours of the walkout to allow more time for negotiations. The dispute between British Airways and its cabin crew members had been simmering since November. Flight attendants agreed to the current sick leave policy in 2005. More than a quarter of cabin crew absences, arising from conditions including stomach upsets and ear infections, are exempt from the paid sick-leave limit. The union also asked the carrier to cancel plans to cut the number of senior flight attendants on planes and revise its pay scales for cabin crew members hired after 1997. Many of the 5000 flight attendants hired after 1997 have now reached the top of their pay scale, and senior staff cuts will hinder promotions, the union said.