Ecuador names woman as defense minister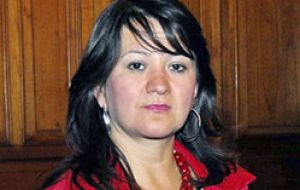 The Ecuadorean government named another woman to be defense minister, to take over after the first female to hold the office was killed in a helicopter accident.
Lorena Escudero, 41, a university professor, has not yet taken over the post, according to a government statement Tuesday. Economy Minister Ricardo Patino is temporarily filling the position. Like her predecessor, Escudero is a teacher by vocation. She has a doctorate in Latin American studies and is a university professor, social researcher and consultant. Guadalupe Larriva, 50, the country's first female defense minister, and her 17-year-old daughter were killed when two helicopters collided this month during maneuvers to mark the 53rd anniversary of army aviation in Ecuador at a base near Manta. A colonel, three captains and a lieutenant also died in the crash. President Rafael Correa ordered a special commission to investigate the apparently accidental collision. He had said he wanted to appoint another woman as defense minister.