Global warming 'very likely' man-made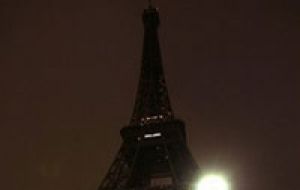 The world's leading climate scientists, in their most powerful language ever used on the issue, said global warming is "very likely" man-made, according to a new report obtained Friday by The Associated Press.
The report from the Intergovernmental Panel on Climate Change â€" a group of hundreds of scientists and representatives of 113 governments â€" represents the most authoritative science on the issue. It was due for official release on Friday morning in Paris. "The observed widespread warming of the atmosphere and ocean, together with ice-mass loss, support the conclusion that it is extremely unlikely that global climate change of the past 50 years can be explained without external forcing, and very likely that is not due to known natural causes alone," said the 20-page report. The phrase "very likely" translates to a more than 90 percent certainty that global warming is caused by man. What that means in layman's language is "we have this nailed," said top U.S. climate scientist Jerry Mahlman, who originated the percentage system. It marked an escalation from the panel's last report in 2001, which said warming was "likely" caused by human activity. There had been speculation that the participants might try to up the ante too "virtually certain" man causes global warming, which translates to 99 percent chance.