Bill Gates and Paul Allen cruise Antarctica in super yacht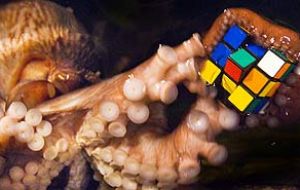 Bill Gates, founder of Microsoft and the world's richest man is currently on an Antarctica cruise in one of the largest and most luxurious private super-yachts belonging to his associate Paul Allen.
The 250 million US dollars "Octopus" with Gates and 17 relatives and friends called in Ushuaia over the weekend to wait for Allen who arrived in a private Boeing 757 and was flown on board in one of the two super yacht's helicopters. For security reasons the "Octopus" had to wait for the helicopters in Ushuaia bay. The Gates and Allen group are scheduled to cruise the Antarctic peninsula during ten days before returning to Ushuaia, revealed Sunday Gustavo de Robles, head of Ushuaia port authority. The 126 meters long "Octopus" launched in 2003 has a crew of 60 including a team of security experts, former members of the US Navy Seals Special Forces. She was designed by Espen ÃËÅ"ino Naval Architects and built by the German shipbuilder Lürssen in Bremen and HDW in Kiel. Her hull is made of steel. Besides the two helicopters she has seven boats, a 10 man submarine and a remote controlled vehicle for crawling on the Ocean floor. The submarine has the capacity to sleep eight for up to two weeks underwater. The annual maintenance cost of the vessel is estimated in 20 million US dollars. "Octopus" is believed to be the fourth largest yacht in the world only behind the Platinum/Golden Star/Dubai, 160 meters long belonging to the Sheik of Dubai; Al Salamah, 139 meters from the Saudi royal family and Rising Sun from US computer tycoon Larry Ellsion, head of Oracle. Russian millionaire Roman Abromavich also belongs to this exclusive club with M/Y Pelorus and M/Y Le Grand Bleu. Paul Allen who is rated the third richest US citizen and seventh at world level according to Forbes has two other super yachts, the "Tatoosh" and "Meduse". Before Ushuaia the "Octopus" called in Punta Arenas for some minor maintenance work at the local Asmar ship yard plus repairs to a deck crane.