Controversy in Uruguayan government over Bush's March visit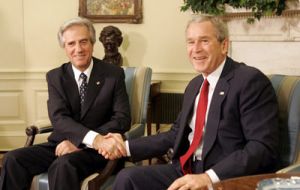 United States president George Bush will be visiting Uruguay next March 8/9 as part of a Latinamerican tour that also includes Brazil, Mexico, Guatemala and Colombia, was announced Wednesday in Montevideo.
Although no details have been revealed, an advance party of US officials and security experts is expected in Montevideo to help prepare the coming visit. The announcement came as a shell shock among some members of the left wing ruling coalition headed by President Tabare Vazquez including his own Socialist Party Foreign Affairs secretary who publicly admitted "he was unaware" of such a visit adding "the President has always had my signed resignation". The Communist party, trade unions and radical groups have promised huge protest demonstrations against the "killer of innocent people in Iraq" who is threatening the "world with more wars". However even if the Uruguayan ruling coalition can manage to contain an internal rift, the visit is also expected to have an impact in Mercosur since President Vazquez and his Economy minister Danilo Astori are struggling to reach a free trade agreement with United States. But such a move needs a consensus among Mercosur members and Brazil, Argentina and Venezuela have openly opposed such initiative. Uruguay only has the support of the group's other junior member Paraguay that is also involved in a political, diplomatic and defense approach with Washington. The official reason for Bush's presence in Uruguay is retribution of the May 2006 visit of president Vazquez to the White House when he allegedly extended an invitation to the US president to fish in Uruguay. Apparently both presidents are fond of angling. Uruguay and United States have already signed an investment protection agreement and last month US delegates signed in Montevideo a Trade and Investment Framework Agreement which in many cases is considered a step previous to a full free trade accord. Bush's Latinamerican visit is also seen as new scenario for the beleaguered president overwhelmed by the Iraq war and consequences, plus an attempt to recover predominance in an area where several left oriented elected governments have taken root and a powerful competitor at world level has made significant trade, investment and political inroads, China.