ECB warns about medium term risks to price stability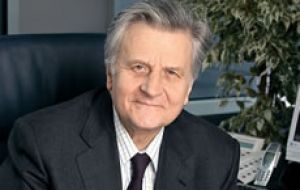 The European Central Bank, ECB, decided Thursday to keep its key interest rate on hold at 3.5%, but pointed out that "strong vigilance" remains essential to ensure that "risks to price stability over the medium term do not materialize".
"Our monetary policy remains accommodative, with the key ECB interest rates still at low levels, money and credit growth vigorous, and liquidity ample by all plausible measures. Therefore, looking ahead, acting in a firm and timely manner to ensure price stability in the medium term remains warranted", said ECB President Jean-Claude Trichet. Economists said that Mr Trichet's comments indicated that eurozone rates were likely to rise to 3.75% in March. The decision to hold eurozone rates came after the Bank of England kept UK rates unchanged for another month. "This will permit medium to longer-term inflation expectations in the euro area to remain solidly anchored at levels consistent with price stability. As emphasized on previous occasions, such anchoring is a prerequisite for monetary policy to make an ongoing contribution towards supporting sustainable economic growth and job creation in the euro area", added Trichet. The ECB president added that the latest EU indicators and survey data suggest that the economic expansion has continued into 2007 and remains solid and broad-based although in the quarter-on-quarter growth rates of real GDP some volatility cannot be excluded. Conditions remain in place for the euro area economy to continue to expand at rates around potential. Global economic growth, which has become more balanced across regions, remains robust, providing support for euro area exports. Domestic demand in the euro area is expected to maintain its momentum. Investment should remain dynamic, reflecting the benefits of an extended period of very favorable financing conditions, balance sheet restructuring, accumulated and ongoing strong earnings, and gains in business efficiency. Consumption should also continue to gradually strengthen over time, in line with developments in real disposable income, as labor market conditions â€" in particular employment growth â€" continue to improve. Unemployment has fallen in France and Germany, with consumer confidence remaining strong, despite Germany's decision to increase value added tax (VAT) from 16% to 19%. As to the main risks Trichet pointed to fears of a rise in protectionist pressures, the possibility of a renewed increase in oil prices, and concerns about possible disorderly developments owing to global imbalances. The ongoing robust expansion of money and credit "reflects the still accommodative monetary policy stance and the strengthening of economic activity in the euro area". Summing up inflation rates are likely to increase again later in the year with risks to the medium-term outlook for price stability remaining on the upside, relating in particular to stronger than currently expected wage developments.