Word and image Falklands Diaries joint project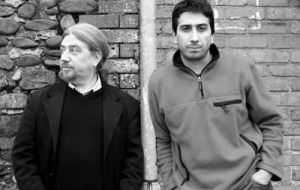 An ambitious documentary project, The Falklands' Diaries, through word and sound, begins next February 14 when Welsh writer Desmond Barry and photographer Diego Vidart arrive in the Falkland Islands from Cardiff.
Des and Diego will arrive in Mount Pleasant on the 14th of February for a three week visit. They intend to create two pieces of work in the form of diaries, one visual and one written of their experience in the Islands to be exhibited in the Wales Millennium Centre through May and June. The focus of the documentary project will be on people and place, landscape and psychology, both the Islanders' and their own reactions to place in the present and the past; Des' as a British citizen and Diego's as a Uruguayan, through word and image. Falkland Islanders will be invited to add their own voices to the project through relaxed Writing Workshops to create an environment for digital dialogue that can become part of the interactive exhibition. The collaboration itself symbolizes that cooperation is possible by people of diverse backgrounds who now share the experience of living in Cardiff, and a global vision of twenty-first century living as well people of the Islands themselves.