Nordkapp en route to Buenos Aires; "no traces of pollution"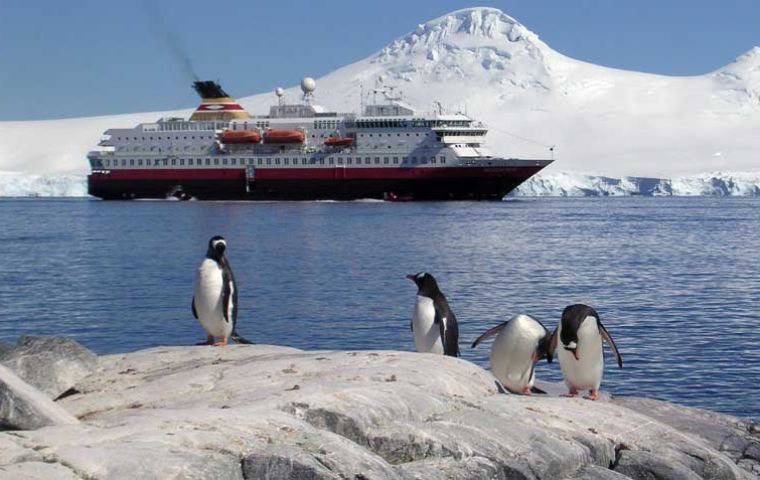 The Norwegian flagged Nordkapp which ran aground in the South Shetlands Islands at the end of January has caused no environmental damage and "no traces of pollution have been found at or around Deception Island" according to a release from the Norwegian Coastal Voyage cruise company.
According to the statement, the "limited discharge of marine gas oil" from Nordkapp had disappeared by Saturday, February 3. Researchers and crews of other cruise ships (such as the Polar Star and Hanseatic) have chipped in to monitor the area and gather samples, all of which came back clean. This outcome is in line with what NCV expected, as light marine diesel dissolves relatively quickly in water. The Norwegian Polar Institute -- which is in charge of Norwegian environmental regulations in the Antarctic -- has confirmed that the diesel fuel has caused no damage to the fragile environment, according to MSNBC. This is good news for the line, as the institute last week expressed concern via a statement: "A spill of such limited extent would normally not pose a threat to the environment. But the spill happened at Deception Island, which has a special ecosystem because of its volcanic origin." Nordkapp has undergone temporary repairs and is currently en route to Buenos Aires for permanent repairs; the remainder of the ship's season in Antarctica has been canceled. Norwegian Coastal Voyage will continue to monitor the area to ensure there have been no other discharges -- and will conduct another inspection when sister ship Nordnorge arrives at Deception Island next week. The 11,386-ton Nordkapp, which had nearly completed its cruise (a 19-day expedition from Santiago to Argentina's Ushuaia, with a flight to Buenos Aires) was on its way back when it struck submerged rocks. The 294 passengers on board had to be taken off the ship and transferred to sister ship Nordnorge which set sail on the 40-hour journey to Ushuaia. Also in the scene to help was the Royal Navy Ice patrol HMS Endurance.