Venezuela and US energy corporation reach understanding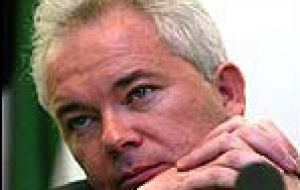 The Venezuelan government and United States AES Corporation signed Thursday a memorandum of understanding (MOU) for the purchase of AES's 82.14% stake in La Electricidad de Caracas (EDC) for 739.3 million US dollars.
The announcement was made in Caracas by Rafael Ramírez, Venezuela's Energy Minister and president of the government owned oil corporation PDVSA. President Hugo Chavez announced last month on the inauguration of his second presidential six year mandate that "strategic areas" of the Venezuelan economy, such as energy and communications, would be nationalized. A release from AES states that the terms of the MOU contemplate that the minority shareholders holding American Depositary Receipts or local shares will be offered equal or better economic terms than AES. Among other necessary conditions to closing, the sale is contingent upon the negotiation and execution of a mutually satisfactory definitive agreement and the completion of satisfactory due diligence. The MOU is in effect through March 31, 2007. In 2000 AES purchased a controlling interest in EDC, which is the largest private electric utility in Venezuela. It is a provider of power and light to approximately one million customers in the Caracas metropolitan area. EDC also owns and operates five generation plants with a total of 2,616 MW of generation capacity which collectively represent approximately 14% of the electricity consumed in Venezuela. AES is one of the world's largest global power companies, with 2005 revenues of 11 billion US dollars and operations in 26 countries on five continents, with a generation and distribution facilities capacity to serve 100 million people worldwide. In related news the Venezuelan National Assembly approved the issuing of public debt bonds in local currency, --Bolivaresâ€"equivalent to 2.465 billion US dollars. Bonds will be publicly auctioned and can be purchased in US dollars, Euros or Bolivares said Elvis Amoroso a member of the Assembly's Finance Committee. Amoroso added that the purpose of the bonds is "to help contain the increase of the US dollar in the parallel (black) market", which this Thursday reached 4.000 Bolivares while the official exchange rate stands at 2.500 Bolivares. Since 2003 Venezuela has a strict foreign currency exchange control in spite of which the US dollar in the parallel market has reached on occasions 5.000 Bolivares. Amoroso also announced that beginning next week the National Assembly will be summoning Caracas Stock Exchange officials and from the country's leading corporations and financial institutions to explain the link "between bonds and the speculative value of the US currency".