Race to record Scottish dialect's last two speakers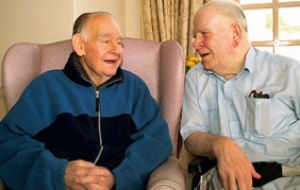 Their language is almost extinct but for two Scottish brothers, thought to be the last surviving speakers of the Cromarty dialect, there was good news this week, reports the Daily Telegraph.
Bobby Hogg (87) and his brother Gordon (80) believe they are the only remaining residents with the distinctive twang of Scotland's Black Isle town's fishing community, and Dr Robin McColl Millar of Aberdeen University's English department has described the Black Isle dialect as the most threatened in Scotland. Now news of the dialect's fragile state has prompted experts from Am Baile, the internet Highland culture archive, to pledge to record the brothers' speech for posterity. But the task could be bigger than first thought as Mr Hogg's wife Helen said the Black Isle had not one but at least five dialects, with three in Cromarty alone. "They were all very distinct," she said. "Avoch, Fortrose and Cromarty fisher folk had their own dialects. Then there was the Cromarty town dialect and the farmers' dialect. "My husband is fluent in the Cromarty fisher dialect and I understand it, but his brother is the only other person who can speak it, although the Avoch dialect is very similar." Mr Hogg, of Cromarty's Denny Road, was pleased when told of Am Baile's plan to make a permanent record of the dialect. "It is dying out at such a rate these days," he said. "You hear the odd smattering of it in some of the things people from Cromarty say but nobody really speaks it these days." The Hogg brothers were the sons of a local fisherman and picked up the dialect during their childhood in the town's close-knit fishing community. Jamie Gaukroger, content coordinator at Am Baile, confirmed he was anxious to record the endangered dialect while its last two speakers were still able to converse with each other. "We will have to make contact and get someone round to see them," he said. "If we have caught an old dialect before it dies that will be a real coup for Highland 2007." Local Councillor David Alston regretted the way the local dialects of the Highlands were being lost. "Language is dynamic and new dialects emerge all the time," he said. "Teenagers on the internet speak in a very distinct way. "There is a natural process of dialects dying and coming to be but it is important we record them before they disappear." The dialect is based on the speech Cromarty people picked up from English soldiers in the 17th and 18th centuries. It was extremely formal, with words like "thee", "thou" and "thine" used frequently, and was spoken so quickly that outsiders found it impossible to understand. The fishermen also adopted some of the English army's mispronunciations, such as fishing for "erring" rather than herring, but then over-corrected when this mistake was pointed out â€" in the Cromarty dialect you listen with your "hears".