Brazilian press unconvinced about Lula-Vazquez summit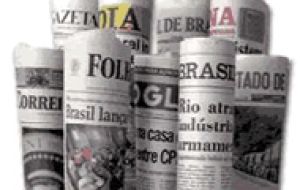 The promises and expectations of improved relations between Uruguay and Brazil and for Mercosur following the presidential summit in Colonia, Uruguay, don't seem to have convinced the Brazilian press.
Tabare Vazquez and Luiz Inacio Lula da Silva met for a few hours in Uruguay Monday to try and improve bilateral relations and give the ailing Mercosur block, seriously challenged by junior members who have been forced to the back seats, a new chance of overcoming asymmetries. "Uruguayan pains persist", said O Estado de Sao Paulo in its main editorial Wednesday. "When Lula da Silva returned to Brasilia the feeling of deep frustration (in Uruguay) had not disappeared", added the daily. "Uruguay feels it has been condemned to suffer under the structure of Mercosur" and no matter how emphatic Lula's statements, "President Vazquez knows very well that Uruguay does not figure among the priorities of Brazilian foreign policy". Besides, "President Lula never hid the fact that Montevideo is not among Brazil's main concerns". Lula da Silva in Colonia tried to calm Uruguay's disenchantment with Mercosur, which imposes barriers to regional exports and has not helped in solving the conflict with Argentina over the construction of pulp mills on the Uruguayan side of a border river. "Uruguayans, both supporters of the government and from the opposition, refuse to accept Lula's Olympic rebuff to mediate in the pulp mills issue, which is seen as an implicit support to the Argentine stance", argues O Estado do Sao Paulo. Uruguay is also asking Mercosur for a chance to negotiate a free trade agreement with United States, hoping to boost its exports. "Uruguayans haven't been deceived by Lula's rhetoric. If they are not insisting with a free trade agreement with the US is for the simple and realistic reason that the special "fast track" powers granted to the White House by the Congress are close to expiring. That's the only reason". Rio do Janeiro's O'Globo said that the problems which are distancing Uruguay from Mercosur will not be solved with Lula's brief visit. Uruguayans are right when the claim about asymmetriesâ€Ã'¦Brazil is so aware of the issue that it has made concessions to Argentina". O'Globo also criticizes the "ideologization of Brazil's foreign policy" which is reflected in Venezuela's membership of Mercosur and the privileged consideration for Bolivia. Let's hope Lula perceives this runs the risk of leaving Brazil tied to the speech and irresponsible actions of Hugo Chavez". Finally Folha de Sao Paulo points out that the concessions granted to Uruguay "are relatively modest" and what really must be in the interest of Brazil is that "the region effectively operates as a free trade area". "Brazil has the obligation of leading the institutional actions that reinforce and give continuity to this objective", underlines Folha adding that "trade in the Americas has greater chances of increasing and becoming more potent if an agreement can be reached involving United States".