Argentina strides ahead in the elimination of FAM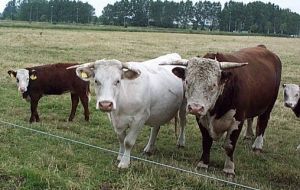 Argentina recovered this week its status of free from foot and mouth disease, FAM, with vaccination according to the country's Agro-food sanitary office, Senasa. Argentina suffered a limited FAM outbreak a year ago in the northern province of Corrientes.
Senasa reported that the World Organization of Animal Health, OIE seated in Paris agreed this month to restore the free of FAM with vaccination in Argentine territory condition, "north of the Rio Negro but leaving aside a 15 kilometers wide strip all along the northern border of Argentina (Bolivia, Paraguay and Brazil), which remains under a strict and intensive vigilance. In February 2006 epidemiological tests, following OIE guidelines, "showed that several cows in a northern Corrientes farm had been exposed to the FAM virus". However the clinical monitoring since has not detected the disease in Argentina and "serological studies show the absence of any viral circulation in national territory". Senasa added that OIE next May will recommend to the International Committee the expansion to northern Patagonia (provinces of Rio Negro and Neuquen) of the area free of FAM without vaccination. Patagonia south, (Chubut, Santa Cruz and Tierra del Fuego) are free of FAM without vaccination since May 2002. Senasa Director Jorge Amaya said that Argentina currently has the best sanitary situation in years since the country is virtually free of five leading animal diseases which threaten the world: Bovine Spongiform Encephalitis (mad cow); avian influenza; Newcastle (poultry) disease; classical swine fever and now FAM with two areas free of vaccination (South and North Patagonia) and a third with vaccination north of Rio Negro. The announcement was praised by Argentine farmers' organizations and beef exporters as "extremely positive" since it paves the way for access to some of the strictest sanitary markets such as United States, Japan and South Korea.