Negative February Consumer Price Index in Chile: -0.2%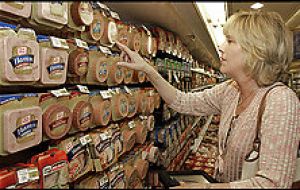 Chile's Consumer Price Index deflated 0.2% in February, totaling 0.1% in the first two months of 2007 and 2.7% in the last twelve months, according to a release from the country's National Statistics Institute.
The monthly index reported lower prices for Transport (-2.7%); Clothing (-0.4%) plus Leisure and Education (-0.1%). Increases were registered for Housing (1.26%); Others (0.6%); Food (0.1%) and Health services (0.1%). The consumer price index which does not include the more volatile items of fresh fruit and vegetables and fuel, remained flat in February but accumulates 3.1% in the last twelve months. Fruits and vegetables dropped 2.3% and 0.8% in the last twelve months. Fuel prices diminished 1.5% in February with an annual twelve months variation of -0.9%. Meantime the Producers Prices Index in February 2007 deflated 3.2% and 4% in the first two months of the year. In the last twelve months the index advanced 7.3%. Areas with the largest drop in prices are Mines and Quarries (-8%); Agriculture, Livestock, Hunting and Forestry (-2.2%); and Fisheries -3.8%. On the other end Electricity, Gas and Water jumped 1.9%. The cost of labor increased 4.8% in January and labor incomer per hour 5.8% in the last twelve months.