Countries agree tighter port controls to combat illegal fishing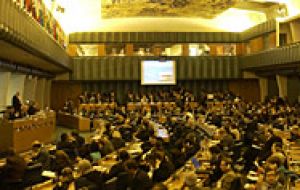 A large group of countries attending a high level meeting on world fisheries in Rome have agreed to start a process leading to the adoption of a legally binding international agreement establishing control measures in ports where fish is landed, transhipped or processed in order to combat illegal fishing, the United Nations Food and Agriculture Organization, FAO, announced Monday.
The decision came during the 27th meeting of FAO's Committee on Fisheries (COFI, March 5-9), attended by 131 countries and the European Commission. Additional consultations will be held in 2007 and 2008 to generate a draft version of the agreement, which will then be presented to COFI for final approval at the body's next meeting in 2009. The proposed agreement will be based on a voluntary FAO model scheme which outlines recommended "Port State" control measures. Port state controls include measures such as running background checks on boats prior to granting docking privileges and undertaking inspections in port to check documentation, cargos and equipment. They are widely viewed as one of the best ways to fight illegal, unreported or unregulated fishing (IUU). Fishing without permission, catching protected species, using outlawed types of gear or disregarding catch quotas are among the most common IUU fishing offences. IUU fishing undermines good management of world fisheries, has negative impacts on fish stocks including those upon which poor fishers depend, and implies significant costs both in terms of lost fishing revenue and money spent combating it. FAO's model scheme on Port State controls also recommends training inspectors to increase their effectiveness and improving international information-sharing about vessels with a history of IUU activity in order to help authorities turn away repeat offenders. Other issues discussed during last week's meeting included responsible fish trade; the importance of the aquaculture sector and the need for its sustainable growth in a responsible manner; social problems adversely affecting fishing communities, such as illness and poverty; the implementation of the ecosystem approach to fisheries and the strengthening of regional fisheries management organizations (RFMOs) and regional fishery bodies (RFBs). The committee specifically tasked FAO with undertaking work on a number of fronts over the next two years, including: - drafting technical guidelines on recommended best practices in deep sea fisheries. - producing guidelines on the use of marine protected areas for better fisheries management, conserving marine biodiversity and improving fisheries production. - undertaking a comprehensive study on the probable impacts of climate change on fisheries in order to begin evaluating necessary management and policy responses. - convening an international conference focusing on problems and needs specific to small scale fisheries, which employ an estimated 34 million people in the developing world. In addition to delegations from FAO Members, 41 intergovernmental organizations and 29 nongovernmental organizations also participated in COFI.