OECD recommends leaving interest rates unchanged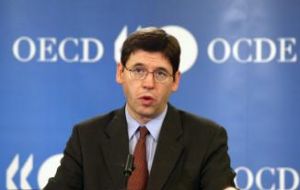 The Organization for Economic Cooperation and Development does not anticipate a recession in the United States but called on the world's three main central banks, --US, European Union and Japan-- not to raise the cost of borrowing..
In a report published Tuesday OECD, made up of the world's 30 leading economies, says that the current level of inflation is under control and therefore is contrary to new interest rates increases in the coming months. OECD chief economist Jean-Philippe Cotis pointed out that at the moment there's "no motive to increase rates", since in the short run a moderate expansion of the US economy is forecasted. He insisted that it's not convenient for the Federal Reserve to increase interest rates given the moderate deceleration of the US economy since mid January and current forecasts. Cotis said growth for this year is estimated in 2.4% for the US; 2.2% for the euro zone and 2% for Japan. It estimates the euro zone grew by 2.8%last year. Cotis said Japan needs to keep interest rates low until inflation is "firmly positive" again and recommended hat the European Central Bank should not further raise interest rates in the short term. "Since inflation has been below expectations, prospects over price stability don't seem unsettling", said Cotis. The European Central Bank that regulates the Euro money market to which belong 12 of the 27 EU members belong, has increased interest rates seven times in the last fifteen months, including the first week of March. The increase has been criticized by the French government and many Spanish consumers holding mortgages. Cotis stated that the latest decisions prove that the ECB no longer has an "accommodative" monetary policy. ECB chairman Jean Claude Trichet last week when the 25 points interest rate increase, gave the impression that rates' increases might still edge up since the risk of inflation had not concluded. Regarding Japan Cotis considers rates must not be increased until prices begin increasing in a sustained way. Contrary to the rest of the world Japan is suffering from a deflation cycle, that is decreasing prices. Bank of Japan's rates are currently the lowest in the world and remain at 0.5% in spite of what looks as a strong recovery of the Japanese economy. As to the recent stock markets declines, Cotis did not feel they represent a major correction. "After a long period of appreciation in asset prices, you finish up with corrections which are more or less strong. The one we've just seen was not major". He had no opinion on whether shares are overvalued and noted the ratio between share prices and earnings in the US are still in line with their long-term averages.